There has been no surge in applications to register to vote in the forthcoming local elections, data shows, with just days to go until the deadline.
Figures provided by the Government show more people applied to register to vote in the five days before the General Election deadline in 2017 than in the first 100 days of this year.
Voters have until 11.59pm on April 17 to apply to register to vote if they want to cast their ballot in the elections, which will take place in 150 local authorities in England in May.
Despite a small uptick in applications last week, figures are nowhere near where they were at a comparable point last year.
Between January 1 and April 10 2018, 1,219,256 people applied to register to vote, a few thousand short of the 1,241,449 who did the same in the space of just five days in May last year.
Last week was the most popular of the year for applications, which reached more than 100,000 for the first time in 2018.
But it represents only a small rise – in the first two months of the year applications averaged around 83,000 a week.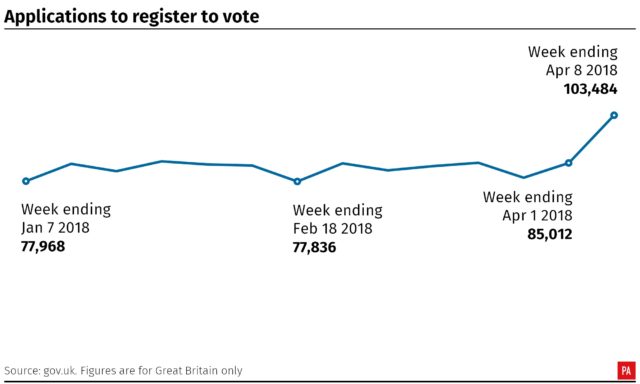 This is despite advertising campaigns encouraging people not to waste their vote, including one from the Electoral Commission, which has distributed nearly a million beer mats to pubs and bars across England.
Emma Hartley, head of campaigns at the elections body, said: "In May 150 local authorities in England, including all London boroughs, are holding elections so it's vital people register before the deadline next week.
"We're keen to see people using the time that may otherwise be wasted, like waiting for friends at the pub, to go online and complete a form in five minutes. It's quick, simple and really important."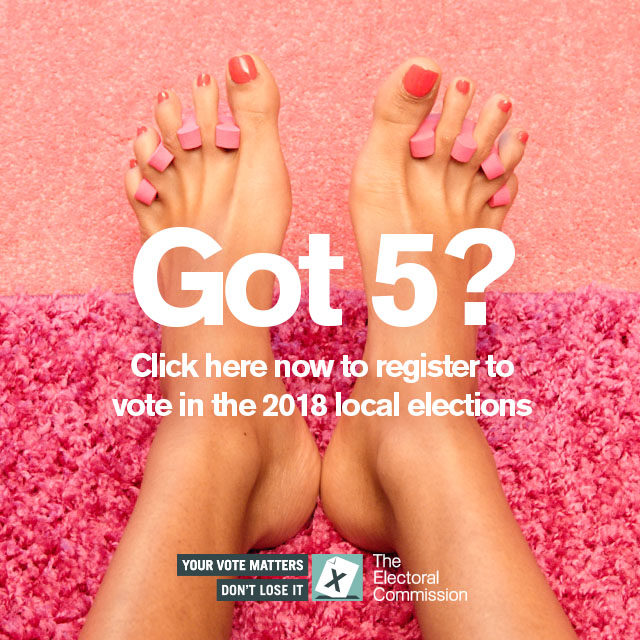 Since January 1, nearly 400,000 people in that age category made an application, compared with just under 30,000 over 75s.
The data also shows that applications peak on Mondays, apart from on April 2, where the Easter bank holiday meant more applied to register to vote on Tuesday.