An RAF engineer has died after a Red Arrows jet crashed in a "big fireball" at the air force's fighter pilot training ground in north Wales.
The pilot of the Hawk fast jet survived the accident at RAF Valley in Anglesey on Tuesday afternoon and is now in hospital, authorities said.
Witnesses reported seeing someone eject from the aircraft with a parachute before it smashed into the ground then "burned bright orange".
Caterer Anne Wilson, 52, who works at The Anglesey Golf Club, at the end of the RAF Valley runway, told the Press Association: "I did not see the crash but I heard a very loud noise – we are used to the planes going over but this was unusual.
"I did go and have a look and there was a big fireball and lots of smoke… quite a few of the members actually saw it.
It is understood the Red Arrows aircrew had been at RAF Valley for routine Hawk simulator training – something that takes place once a month.
They had just taken off from the base and were on their way back to RAF Scampton, where the aerobatic team are based, when the incident happened.
Defence Secretary Gavin Williamson sent his "thoughts and prayers" to "the family, friends and colleagues of the RAF engineer at this incredibly sad time".
Sian Rebecca Williams, an 18-year-old student from Rhosneigr, north Wales, said she was waiting at Rhosneigr train station when the jet flew overhead.
"The Red Arrow came over and because I'd hardly seen one before I thought 'Wow, it's out'," she told the Press Association.
"From what I remember it did a loop and flew towards the runway and looked like it was about to land.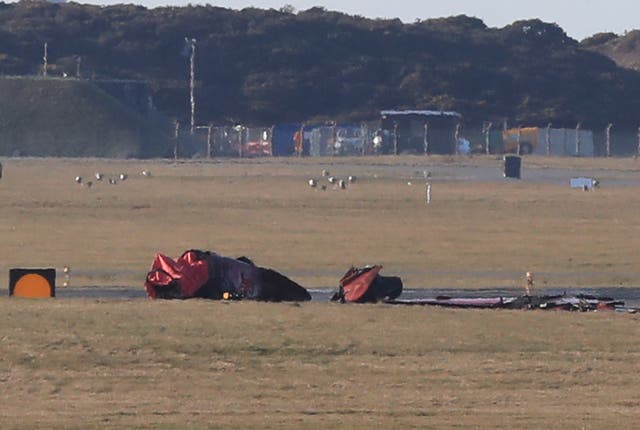 "Then it just burned bright orange and there was smoke everywhere."
The on-base fire engine drove out to the wreckage "instantly", she said, putting the flames out before an air ambulance arrived.
The Air Accidents Investigation Branch will now begin a full investigation into what caused the accident, North Wales Police said.
Some 1,500 service personnel, civil servants and contractors work at RAF Valley on Anglesey, which is also home to the military's search-and-rescue, post-crash team.
It is home to the No 4 Flying Training School which is "responsible for training the UK's next generation of world-class fighter pilots", according to its website.