The police officer who rushed to the aid of a Russian ex-spy targeted with a nerve agent is "very anxious" as he recovers in hospital, his chief constable said.
Wiltshire Police named the officer as Detective Sergeant Nick Bailey, who is still in a serious condition following the attack in which a chemical weapon was used in an attempt on the lives of Sergei Skripal, 66, and his 33-year-old daughter Yulia.
Police thanked well-wishers for their support for the officer, while the force's temporary chief constable Kier Pritchard said: "I have just left the bedside of our officer and family in hospital. Conveyed all our thoughts and wishes, an amazingly courageous officer."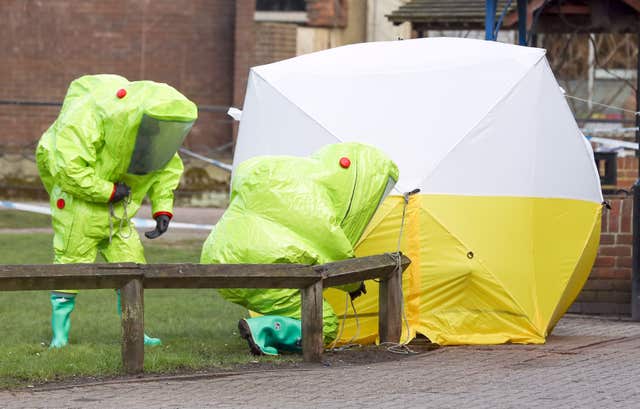 His praise was echoed by Prime Minister Theresa May, who said the events served as a "stark reminder" of the dangers faced by emergency staff.
Mr Pritchard continued: "He's well, he's sat up. He is not the Nick that I know but of course he's receiving a high level of treatment. He's in the safe hands of the medical professionals working in Salisbury District so I'm very confident he's getting the best professional support that he can.
"Of course he's very anxious, he's very concerned. He did his very best on that night."
It comes amid a flurry of activity in Salisbury, where police sealed off the gravestone of Mr Skripal's wife Liudmila, who was buried in 2012, and the memorial stone of his son, Alexander, who was cremated last year.
They are located at separate sites in the London Road Cemetery with each guarded by a police officer.
Hundreds of investigators, led by counter-terror police, are working to find out who is responsible for what is feared to be a sophisticated plot amid heightened tensions between Britain and Russia.
Earlier on Thursday, Home Secretary Amber Rudd said the use of a chemical weapon on UK soil was a "brazen and reckless act" and the Government stood ready to act as a clearer picture emerged.
And Mrs May, asked whether the action taken if Russia was found to be responsible could include the expulsion of its ambassador, told ITV News: "We will do what is appropriate, we will do what is right, if it is proved to be the case that this is state-sponsored.
"But let's give the police the time and space to actually conduct their investigation."
She added later: "I would like to pay tribute to all of the emergency services in Salisbury – those who reacted to the initial call on Sunday and those who continue to respond to this appalling and reckless attack.
"In particular, my thoughts are with Detective Sergeant Nick Bailey – one of the first responders – who remains in a serious condition in hospital.
"We are all thinking of him, his family, friends and colleagues – and the two other victims – at what is an incredibly difficult time.
"The events of Sunday are a stark reminder, if ever one was needed, of the dangerous situations our emergency services face and the dedication and courage they display every day in order to keep us safe."
Addressing the House of Commons earlier, Ms Rudd said: "The use of a nerve agent on UK soil is a brazen and reckless act.
"This was attempted murder in the most cruel and public way. People are right to want to know who to hold to account.
"We are committed to doing all we can to bring the perpetrators to justice – whoever they are and wherever they may be."
Ms Rudd, who named the victims publicly for the first time, said Mr Skripal and his daughter "remain unconscious and in a critical but stable condition".
The Russian Embassy said Ms Rudd's speech was a "responsible political approach" and also likened the case to the high-profile deaths of wealthy Russians Boris Berezovsky and Alexander Perepilichnyy, in which they said the conclusions were "classified".
The inquest into the death of Mr Perepilichnyy is looking at whether he died from natural causes or was poisoned before he collapsed while out jogging near his home in Weybridge, Surrey, in November 2012.
At the time, the 44-year-old father-of-two was allegedly helping specialist investment firm Hermitage Capital Management uncover a 230 million US dollar (£150 million) Russian money-laundering operation.
And the circumstances of the death of Russian oligarch Mr Berezovsky, found dead with a ligature wound to his neck in March 2013, remained uncertain after a coroner recorded an open verdict in March 2014.
Although there were suggestions that the 67-year-old – who had survived at least two assassination attempts – was murdered, police did not find any evidence of foul play.
Russia has denied responsibility for the attack, which comes seven years after Mr Skripal was released from the country as part of a spy swap with the US.
He had been convicted in his home country in 2006 for passing state secrets to MI6.