The engagement of Princess Eugenie and long-term boyfriend Jack Brooksbank has been described as "total joy" by the bride-to-be's mother, Sarah, Duchess of York.
The Queen and Duke of Edinburgh have also expressed their delight at the news, wishing their granddaughter and her fiance "all the best".
Sarah posted a series of tweets to describe her joy at her daughter's plans to marry Mr Brooksbank this autumn in St George's Chapel at Windsor Castle – the same venue as Prince Harry and Meghan Markle's wedding in May.
A Buckingham Palace spokesman said: "The Queen and Duke of Edinburgh are very pleased and wish the couple all the best."
Mr Brooksbank's parents, Nicola and George, also spoke of their happiness following the announcement.
In three tweets – which were retweeted by the Duke of York – the Duchess expressed her happiness at the news.
In the first, she wrote: "Total joy!!" and included a picture of the couple overlaid with the words: "A total embrace of goodness and joy.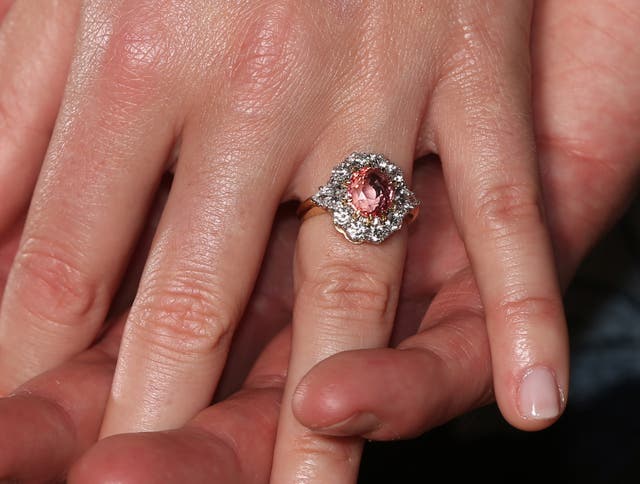 In the second, which featured a picture of the couple on a boat, she wrote: "They float with laughter and love … although a boat helps!"
Her last tweet said: "I always say that the river flows well to it's destiny
because of the guidance of a solid rock."
Eugenie, 27, and Mr Brooksbank, 29, got engaged in Nicaragua earlier this month during a private holiday, the palace revealed.
The princess began dating the brand ambassador of Casamigos Tequila about seven years ago after they met while skiing in the Swiss resort of Verbier.
Mr Brooksbank's parents said in a short statement: "We could not be more delighted with the news of the engagement.
"We are completely over the moon and are very excited for them both."