Police are warning people only to travel if absolutely necessary in areas covered by amber snow and ice warnings.
Officers said there is a "high risk" of disruption and delays on the roads in areas covered by the alert, which is valid until 10pm on Friday.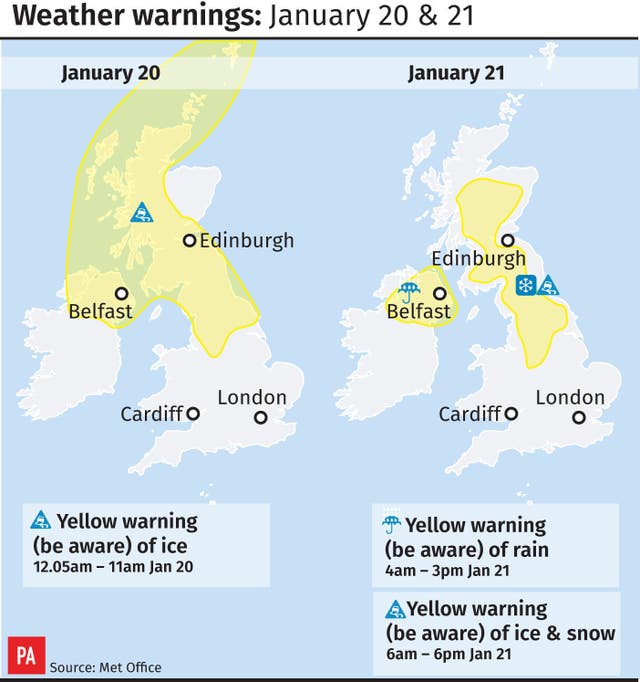 It warns of heavy snow showers with up to 12 inches (30cm) possible over the highest routes, and up to four inches (10cm) at lower levels.
Forecasters said there is a chance of power cuts, while some rural communities may be cut off.
Dozens of schools around the country are closed while some are shutting early due to the weather conditions.
Police Scotland urged people to think carefully before travelling.
Superintendent Louise Blakelock, of Police Scotland's Road Policing department, said: "If you travel on the road network in the warning area, you will be disrupted and you will face significant delays.
"With that in mind I would urge the public to think and plan ahead for their return journey home this afternoon.
"If you are able to, please make your homeward journey earlier. If you are an employer, please think carefully about allowing your staff to return home early if possible.
The Scottish Government said the Multi Agency Response Team (MART), involving partner organisations such as Police Scotland, is monitoring the situation.
Scotland's Transport Minister Humza Yousaf MSP said: "With the Met Office issuing another amber warning for snow, we are facing another potentially difficult period for drivers on the trunk road network.
"We're being told the period between 3pm and 10pm tonight is going to be challenging, so I'm urging people to avoid travel within the amber area at that time.
"More widely, we're advising people to avoid travel if possible. If you choose to travel, particularly in the evening peak period, you are likely to face significant delays and disruption.
"Consider if you can make your journey home from work earlier than usual. Scottish Government officials are contacting business groups to make them aware of this advice, and I'd also ask employers to be flexible and consider letting staff leave early.
"If you must travel, then please take extra time to plan your journey, listen to police advice and drive to the conditions."
First Minister Nicola Sturgeon urged people to be careful, tweeting: "Travel conditions likely to be difficult so please take care, follow advice @trafficscotland – and only travel if you have to."
Some schools in the Borders, South Lanarkshire, Perth and Kinross and the Highlands are closed due to the weather, while North Lanarkshire Council said schools would be shutting early.
A yellow "be aware" warning of snow and ice for most of Scotland, Northern Ireland and North West England, North East England, Yorkshire and Humber is in force until 11.55pm on Friday.
It warns of frequent snow showers which will be accompanied by hail and lightning at times, particularly across western Scotland.