Angela Rippon has praised Bruce Willis's family for opening up about the actor's dementia diagnosis as she backed a new campaign which offers support to those caring for loved ones with the condition.
The Alzheimer's Society, who have launched the campaign, have said that after Willis's diagnosis of frontotemporal dementia was announced they saw a 12,000% spike in visits to their website.
Rippon, 78, became involved with the charity when her late mother Edna was diagnosed with the condition in 2004 and later became an ambassador as well as now co-chairing one of the prime minister's committees on dementia.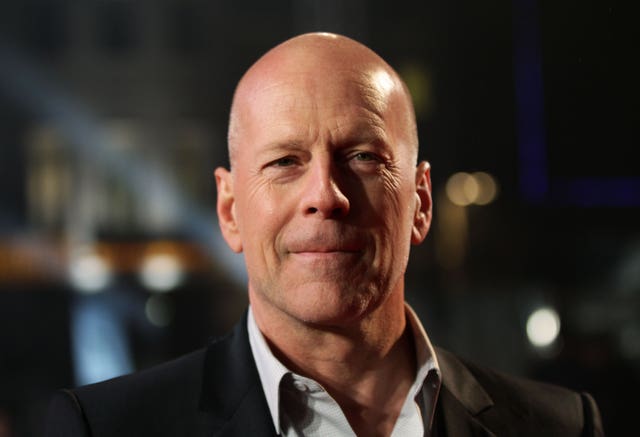 "We've got an actor who won an Oscar for portraying people with dementia in films, we've had radio and television soap operas, books have been written about people with dementia," she said.
"Dementia over the last 20 years has been given such a huge profile compared to the 50 years beforehand, that more people are aware of it, are prepared to talk about it.
"Bruce Willis' family coming straight out and saying 'Bruce has got dementia', talking about it, giving it a high profile."
Earlier this year the family of Willis, 68, who starred in hit films including the Die Hard series and Pulp Fiction, shared an update on his health, confirming he had been diagnosed with frontotemporal dementia (FTD).
Rippon feels people need to continue to talk about the condition so that more people know what it is, how it can manifest and how to help others if they develop it.
"The more you can talk about it, the more you can make people understand and be less afraid of it, and come to terms with it, understand how it's likely to affect you, as a carer, as a family member, how it's likely to affect your loved one, the better it is going to be for those people who then have to live with dementia to be able to do so with dignity," she said.
The Alzheimer's Society latest campaign video, titled The Ultimate Vow, highlights the harsh realities of living with dementia as it shows a wife caring for her husband as his symptoms of the condition steadily develop.
"People with dementia often get confused, there are times when people perhaps are not very nice to them.
"They're in all sorts of circumstances where they feel lost and also aware that there is something not right with them, they know that they're unwell and I think it brings people with dementia huge comfort to know that they are with somebody who loves and respects them.
"Whatever else may be awful in their lives, they have that love to fall back on.
"And the people who are carers, we know that we cannot cure them, there is absolutely nothing we can do medically for our loved ones if they have dementia, but what we can do is we can demonstrate how much we still love them, and respect them and want them to have a dignified and happy life amongst friends and family."
She added: "The more you talk about it, hopefully, the more chance there is of getting even more money put into research to find other forms of medical interventions that will help mitigate the worst effects of the illness.
"And maybe, one day, the golden bullet will be some point in the future that someone will find a cure."