George Ford says it is not about individual match-ups ahead of an intriguing Twickenham battle with friend and England colleague Owen Farrell.
Ford will pull the tactical strings for Sale on their first appearance in a Gallagher Premiership final since 2006.
His rival fly-half Farrell, meanwhile, is key to Saracens' hopes of securing a sixth Premiership title on Saturday following the crushing disappointment that accompanied their defeat against Leicester at Twickenham last season.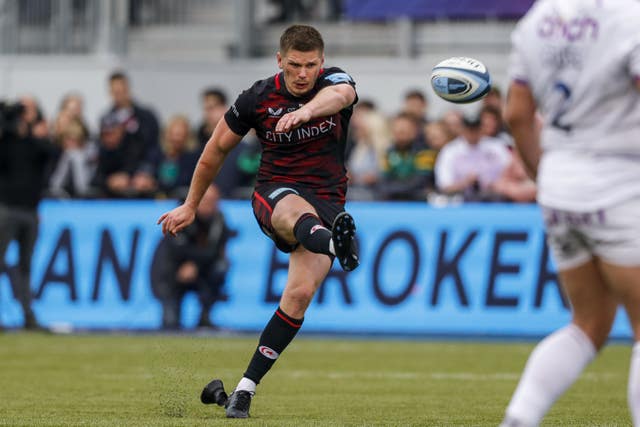 "There are threats everywhere, and we are like that ourselves. I am one of only 15 at a time for Sale.
"I never see it as just a match-up between me and him. There is so much more that goes into a game of rugby.
"Obviously, both of us will want to do our job as well as we can, of course we do, for our team, and that is making as many good decisions and executing as well as we can.
"He is a great friend, and we understand we are just a cog in a machine of two teams, I suppose, that hopefully have an influence on the game one way or another.
"That consistency that he (Farrell) plays at very rarely dips. You see the influence he has on the teams he plays in and the way he drives it.
"He is obviously driving their variety in terms of the way they attack when they have the ball, and he is probably as ferocious as ever in defence.
"A lot of the stuff in rugby comes down to not just one player against another, it comes down to many things.
"Who has got momentum, who's got speed of ball, who has got field position, who's building pressure the most? And then it is about who executes better in those moments.
"Saracens have added variety to their game, everybody knows about that, in terms of the last 12 months, the way they play with the ball.
"But it comes down to who executes the best under pressure, because both teams are going to try to put each other under pressure. Who can handle that?"
He now has a chance to win silverware in his first campaign with the Sharks, backing Ford's long-held view that Sale can be challenging for trophies.
Reflecting on the move north, he added: "It was the reasons of coming up to where I grew up, coming up to be close to my family, coming to a team I knew had unbelievable potential to start competing and hopefully start challenging for titles in the Premiership.
"But also you've a decision where you can maybe come out of your comfort zone, come to a new team and you are at a stage where you have to start influencing, you've got to start proving yourself again to a whole new group of people and see what you can do with that team.
"I think that brings the best out of you sometimes. I certainly felt that coming back from injury. I have loved it."