Former Arsenal midfielder Ray Parlour thinks his old club will not have a better opportunity to win the Premier League than this season.
The Gunners face Manchester City on Wednesday night at the Etihad Stadium in a game that could ultimately decide who wins the title.
Mikel Arteta's side have stumbled slightly in their pursuit of a first league championship since 2004, squandering two-goal leads against Liverpool and West Ham before being held to a 3-3 draw at home to Southampton despite fighting back late on.
Parlour, part of the 'Invincibles' side who famously won the title almost 20 years ago without losing a game, feels Arsenal may not get a better chance and fears teams like Chelsea, Liverpool and Manchester United will come back stronger next season.
"We know Chelsea, Manchester United, Liverpool, they will all be stronger next year, so you're in a position now to make history and the achievement will be right up there with anything that I won.
"They were outsiders to win the league at the start of the season, so there's an opportunity and it doesn't come round too often that you get the chance to be in this position with seven or eight games to go. But whatever happens I still think so much progress has been made this year."
Pep Guardiola's City have won the league in four out of the last five years and are aiming to make it three titles in a row, sitting five points behind Arsenal with two games in hand.
Arsenal's last win came at the start of April, 4-1 against Leeds, and City are breathing down their necks thanks to a six-game winning run, having not dropped points since February.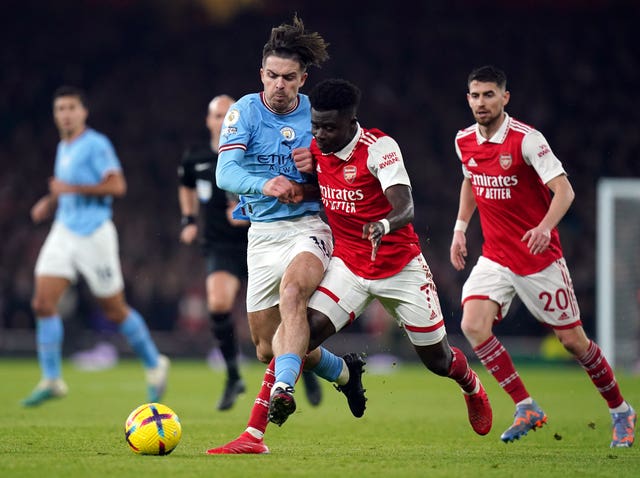 "This is what you love football for, you never know what the season is going to hold for anyone and it's been a rollercoaster ride for everyone at Arsenal this season, now they've just got to keep believing they can do it.
"(Wednesday's game) won't decide it, but it will be a big gauge where the title will go this season."
While Arsenal have seen progress, they are relying on the league title to earn them some sort of silverware this season.
The North London side were knocked out of the Europa League by Sporting Lisbon, after exiting the FA Cup and Carabao Cup to City and Brighton respectively earlier in the campaign.
Manchester United were crowned Carabao Cup winners with victory over Newcastle in February and, should Arsenal miss out on the title, Parlour believes United will have had the better season.
"You can argue Champions League (qualification) is so important for the clubs because of finances and the players you can attract into the club.
"But when I finished my career, I don't look at it like, 'Ooh, I came fourth eight years running', I say the amount of trophies you won and that's what you are proud of. On your honours list, fourth place doesn't count."
::WOW HYDRATE's range of collagen protein and electrolyte waters support you to be the best. Visit wowhydrate.com