Marcus Smith will one day join the swelling ranks of England stars playing overseas but for now the Harlequins sensation has unfinished business with club and country.
Smith's Quins contract expires in June 2024 but despite interest in one of the game's most inventive fly-halves from the Top 14, the 24-year-old sees a move abroad as a project for the future.
Of more immediate concern is reversing Harlequins' slide since winning the 2021 Gallagher Premiership title and reclaiming England's 10 jersey from main rival Owen Farrell.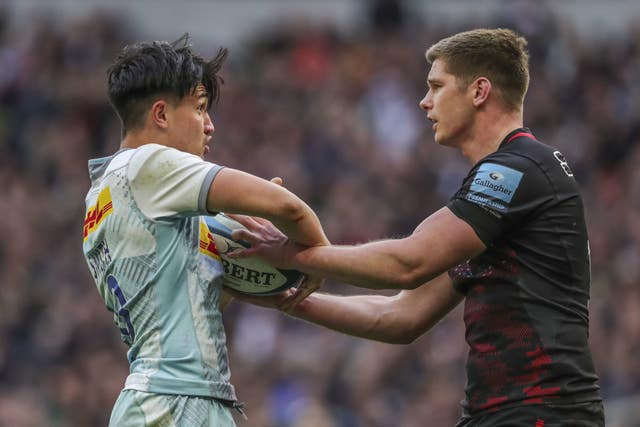 "But I'll do that when the time's right for me, my family, my girlfriend and in my development as a rugby player and as a person as well.
"But at the minute I'm loving playing in the Premiership, I'm loving playing for Harlequins and I guess we'll see what happens in the future."
While Smith's present focus is on these shores, he has noted the number of red rose internationals to have signed for clubs across the Channel.
Luke Cowan-Dickie, David Ribbans, Joe Marchant, Sam Simmonds and Jack Nowell will join French clubs after this autumn's World Cup as pressure grows on the Rugby Football Union's restriction on selecting overseas-based players for England.
Smith believes that by raising a salary cap that is scheduled to increase from £5million to £6.4million next year and being more creative in marketing the Premiership, the exodus can be reversed.
"If you look across to the Top 14, you see the dominance they have in Europe. For me that's mainly down to the salary cap," he said.
"If they've got more resources and finances to build their squads then they're probably going to be in a better position to win those tournaments.
"I've never personally been further than the round of 16. When I was younger I wrote in my book that I want to win the Heineken Cup. To do that here in England is extremely tough and for me the that's a big draw.
"Two clubs have folded (Wasps and Worcester), which is never a good sign for the game in the Premiership.
"You see the viewing numbers in France rising. The number of people watching games over there is a different level to us and there are avenues the Premiership can go down.
"I'm biased but I think Quins are playing a big part with games like 'Big Game' and 'Big Summer Kick-Off'.
"A bit of variation in the game of rugby, which is so traditional, might entice a different audience to come and watch our games.
"That hopefully leads to better grassroots participation, an increase in the salary cap, better teams and hopefully European titles coming back to England."
Sources at Premiership Rugby point out that by 2024 the gap in spending between English and French clubs will have narrowed to around £1million.
Although the £6.4million salary cap that will come into effect for 2024-25 is lower than the £9.2million ceiling enforced in the Top 14, allowances and credits will raise the actual spend to around £8.3million.
While the money available for top English players is a source of dispute, there is universal agreement that there need to be fewer clashes in domestic and international fixtures.
"I'm only able to pay for England because of Harlequins. It's ironic that you play well for your club, you go away, and you miss more games," Smith said.
"Speaking to other players across the league, they're all desperate to play for their club as well as England.
"So if there's a compromise that can be made then both parties will benefit – and not just the league, but the individuals, too."