Erik ten Hag believes the impending returns of Christian Eriksen and Casemiro will be a fillip for Manchester United as they head towards the business end of the season.
The Carabao Cup winners harbour hopes of a top-four Premier League finish and have progressed to the latter stages of both the Europa League and FA Cup, so an exacting climax to the campaign awaits.
United's ranks will be strengthened against Everton in the lunchtime kick-off on Saturday by Eriksen's return to the matchday squad after an ankle injury that has sidelined the Dane for the last two months.
Casemiro will be available after serving the last match of a four-game suspension this weekend, and Ten Hag is relishing soon having the experienced and influential duo back in the centre of the park.
"It's obvious and clear that two very valuable players (are coming back), especially so in midfield," said Ten Hag, whose side have won just one of their last four Premier League matches.
"We all know how important the midfield department is and what we have had to do in several games is find a new balance and that's not so easy to find in this stage of the season.
"Sometimes it's also a little bit trial and error bringing new players in, bringing players in a different position so that's what we did.
"We have to make it a really successful season and we have a great squad now, so I'm really positive to get a good final stage of the season and to get even more silverware."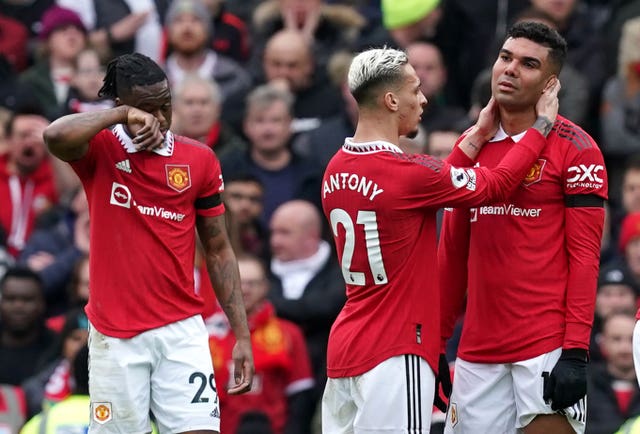 He was given his marching orders against Palace for grabbing Will Hughes round the neck during a mass melee in February and was sent off just two league appearances later when a yellow for a challenge that ended up with his boot on Southampton midfielder Carlos Alcaraz's shin was upgraded to red by VAR.
"I trust the refs but I have to say, for me, both are definitely not a red card," Ten Hag added.
"Everyone knows football, when you play at the top level, you know that's not a red card because then you would be sending off many players in every game in the Premier League.
"He's taking part (in training) but especially for players like Casemiro, it's not an advantage. He needs the rhythm from training for games and he misses that. Luckily he had a game for Brazil (when they played Morocco in an international friendly on March 25)."
"It's an injury you have to see over days how it progresses," Ten Hag said. "Sometimes you underestimate this injury but I think Luke did quite well, he knows his body and he went off in the right moment before taking more damage.
"In this moment we are quite positive about him returning quickly."
Ten Hag, who is hopeful of welcoming back Alejandro Garnacho from an ankle injury before the end of the season, also insisted he is relatively sanguine about the contract situation of Marcus Rashford.
The striker took his tally for the season to 28 goals against Brentford in midweek and his red-hot form has underlined the urgency to tie him down, with his current deal running to the end of next season.
"It's not a concern for me," Ten Hag added. "I don't want to give a comment on the process because I don't think it will support the process. But I'm quite relaxed."