England left New Zealand chasing a formidable 394 on night three of their series opener at Mount Maunganui, after captain Ben Stokes replaced his own head coach Brendon McCullum as the leading six-hitter in Test cricket.
A trio of half-centuries from Joe Root (54), Harry Brook (57) and Ben Foakes (51) kept the tourists motoring as they moved to 374 all out, with the Black Caps needing to comfortably eclipse their previous record of 324 for a successful fourth innings chase.
The timing also played into the away team's hands, with the change over occurring just as the tricky twilight period was beginning under the floodlights.
It was a team effort to get England into the position they wanted but there was a single blow from the skipper that drew a round of applause and a knowing smile from McCullum. The former Kiwi captain retired in 2016 with a world record 107 sixes, with Stokes equalling that mark in Multan before Christmas.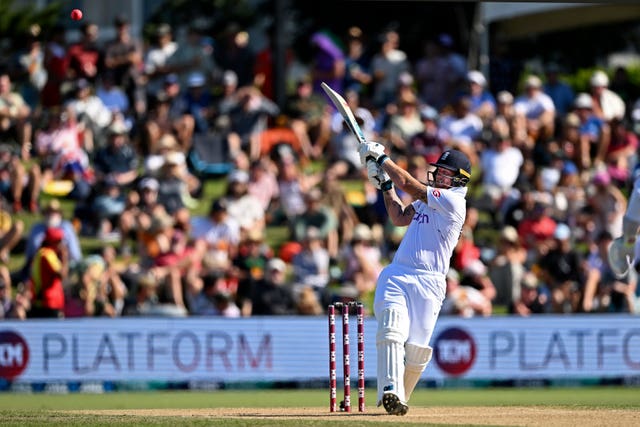 The skipper clearly had the thirst for more but was stumped for 31, both feet leaving the ground as he charged spinner Michael Bracewell and hit fresh air.
New Zealand already need to make their best fourth-innings chase, with a previous high of 324 against Pakistan in 1994, but there was a potential concern over their bowling attack, with Ollie Robinson receiving treatment from the physio while batting.
England made their intentions clear after resuming on 79 for two, pushing the game forward with their usual frantic tempo in the afternoon session.
With just over 25 overs bowled, they thrashed 158 runs, their enthusiasm coming with a price tag of four wickets.
At one stage he leaked 84 runs from just seven overs and had conceded an eye-watering 104 by the end of his 11th over of the innings.
Things had started well for the left-armer, who ensured Stuart Broad's stint as the 'nighthawk' was a brief affair. His promotion on Friday night caused much excitement, with the term even trending on Twitter back home, but he was gone for seven when he looped a simple catch to gully.
That success was something of a red herring for Wagner, who continued to serve up bumpers but found Pope and Root much less obliging. His next two overs disappeared for 16 each, Pope stepping inside the line and pulling him for six big sixes behind square.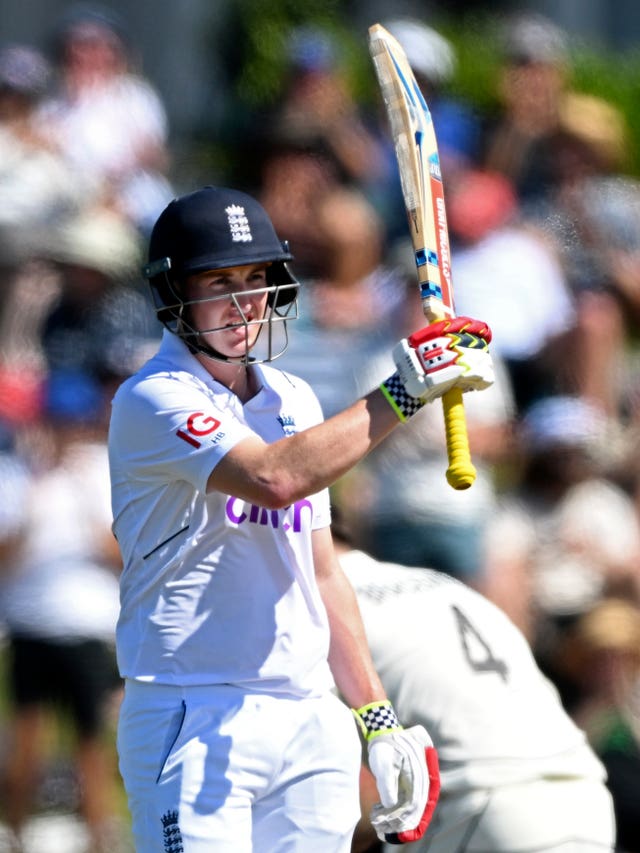 Wagner refused to back down, even as Pope slapped him over cover and the vacant mid-on region, and was rewarded for his persistence when the number three gloved the next ball behind.
The arrival of the in-form Harry Brook was never going to slow things down and he promptly blazed a wonderful 37-ball half-century. Once again, Wagner put himself in the firing line as Brook hammered away seven fours and two sixes.
Talk of a fourth Test hundred in eight innings was stopped in its tracks when he nicked Blair Tickner to slip, aiming for a poke to deep third. Root joined him in the pavilion in the final over of the session, toe-ending a reverse sweep to slip, his second dismissal to a version of that stroke in the match.
England made another 112 for the loss of Stokes and Foakes before the second interval, the latter's measured contribution hugely important at a time when a collapse could have changed things. Ollie Robinson and Jack Leach ate up a few more minutes before the innings drew to a close with around two hours remaining.