Pep Guardiola insists Arsenal remain in control of the Premier League title race despite losing top spot to his Manchester City side in midweek.
City, the defending champions, took over at the summit after beating their rivals 3-1 at the Emirates Stadium on Wednesday.
After trailing by eight points last month, City appear to have momentum but Guardiola is refusing to get carried away.
"Arsenal still have a game in hand, so nothing has changed much," said the City manager ahead of Saturday's trip to Nottingham Forest.
"When you are a lot of points in front or a lot of points behind, yes there is a big difference, but we are tight.
"Momentum is when you win 10 games in a row and it didn't happen this season. We lost three games ago in London against Tottenham.
"Momentum is tomorrow at 3pm – be ready, mentally, against a team that have lost just one in six, have won important games at home, with their crowd and with a manager I respect a lot for what he's done for English football."
City's win over Arsenal had the feel of a statement victory but Guardiola did not want to dwell on its potential significance beyond the three points.
"We wanted to arrive with 15 games left to be close, and we want to arrive at the last eight or 10 games being there close to the top, and after make the last rush or effort.
"The last weeks helped us, for the results of Arsenal and the victories we have done.
"We are in the position I would have dreamed of at the beginning of the season. I could not expect to be a lot of points in front after winning back to back. That's almost impossible."
City may have been inconsistent in terms of results since the competition resumed after the World Cup in December but midfielder Jack Grealish has excelled.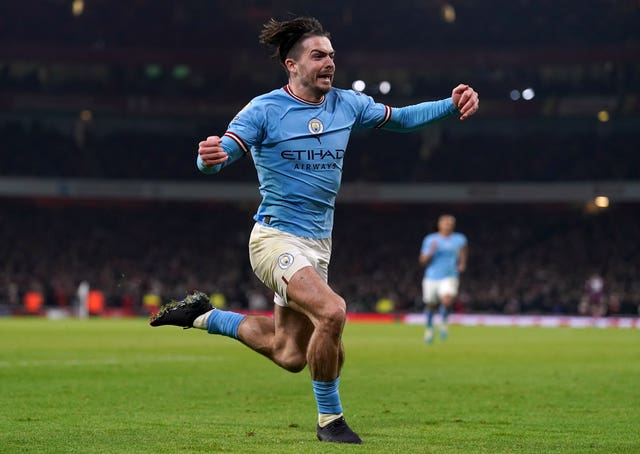 He said: "Obviously he's playing really good. I'm not talking about the decision-making, but more about his ambition and aggression to point to the opponent, to attack the back line.
"The quality was always there but his commitment to take risks and make important decisions, makes the difference. But he has to continue."