Canada's women's team wore purple shirts displaying the words "enough is enough" as a protest ahead of their SheBelieves Cup match against the United States.
Last week the Olympic champions issued a statement complaining about the level of funding from Canada Soccer, with captain Christine Sinclair saying the team were going on strike over the matter.
After that action was subsequently called off at the weekend, Canada players then donned the purple T-shirts prior to their 2-0 loss to the US in Florida, while players from both teams wore purple tape on their wrists.
A statement from the Canadian Soccer Players' Association (CSPA) said: "Tonight our players will be wearing purple as a symbol of protest. Purple has historically been associated with efforts to achieve gender equality.
"Considering the current circumstances, our players will continue to wear purple until our association has standards in place that ensure equal treatment and opportunity."
Representatives of the CSPA and Canada Soccer met at the weekend to discuss the situation.
The CSPA released a statement from the players saying that before the meeting "Canada Soccer told us that they consider our job action to be an unlawful strike" and that "if we did not return to work…they would not only take legal action to force us back to the pitch but would consider taking steps to collect what could be millions of dollars in damages".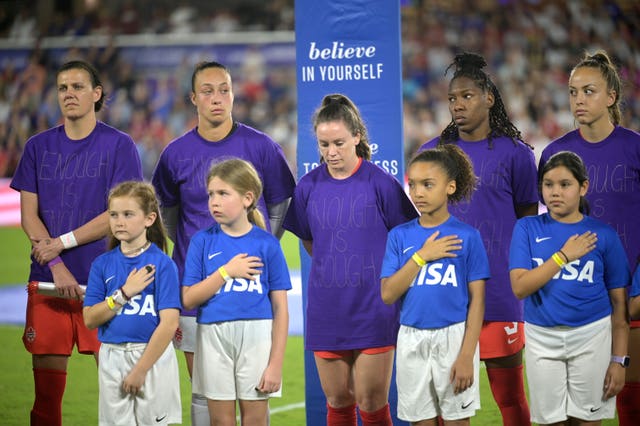 "And we continue to believe that unless we stand up together and demand more, nothing will ever change."
Sinclair tweeted at the time: "To be clear. We are being forced back to work for the short term. This is not over. We will continue to fight for everything we deserve and we will win. The SheBelieves is being played in protest."
"But Canada Soccer knows that is not enough. There is still work to do.
"Canada Soccer has committed to negotiating a comprehensive collective agreement with both of the player associations of the women's and men's national teams.
"That agreement, once concluded, will be an historic deal that will deliver real change and pay equity in Canada Soccer. It is a goal worth getting right.
"Canada Soccer has also seen the comments from the CSPA about 'forcing' the players back to work. Canada Soccer respects the players' right to organise.
"The players, while having taken job action, were not and are not in a legal strike position under Ontario labour law.
"Canada Soccer was not prepared to jeopardise the SheBelieves Cup tournament, the preparation it would afford the women's national team for the upcoming World Cup, nor the experience it would afford countless fans who had undoubtedly travelled to Orlando to see their national team heroes.
"Canada Soccer therefore took the necessary steps to ensure that such games will be played as scheduled. Canada Soccer is heartened that the women's national team players will play as it committed."