Lee Mason has not been selected as a VAR for the next round of Premier League matches following his offside error last weekend.
Mason failed to spot an offside in the build-up to Brentford's equalising goal away to Arsenal last Saturday.
His name was absent from the appointments list published on the Premier League website at noon.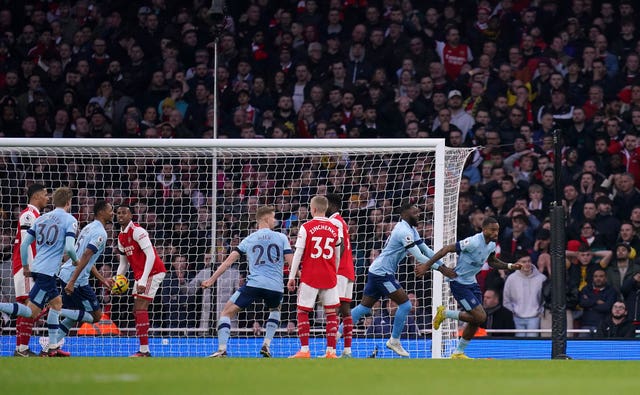 The errors at the weekend prompted Howard Webb, the chief refereeing officer at Professional Game Match Officials Limited, to contact Arsenal and Brighton to acknowledge and explain them.
Webb called a meeting of all Premier League officials at Stockley Park on Tuesday in the wake of the incidents as he sought to identify what went wrong.
Mason has faced calls from former PGMOL general manager Keith Hackett to be sacked. Mason, who became a dedicated VAR at the start of last season following his retirement as a referee, did not investigate the play immediately leading to Brentford's equaliser at the Emirates Stadium when Christian Norgaard appeared to be in an offside position before he hooked the ball across goal for Ivan Toney to score.
Mason had instead checked and cleared a passage of play immediately preceding that.
He was not selected for a round of matches in September after wrongly disallowing a Newcastle goal for a foul in their match at home to Crystal Palace.
Mason judged that Magpies forward Joe Willock had fouled Palace goalkeeper Vicente Guaita, when replays indicated Willock had been shoved into Guaita by Palace defender Tyrick Mitchell.
Brighton had a Pervis Estupinan goal wrongly disallowed when the offside lines were drawn against Palace defender James Tomkins instead of his team-mate Marc Guehi, who was stood behind Tomkins and playing Estupinan onside.
A PGMOL statement released on Tuesday night read: "A constructive meeting was held at Stockley Park today, led by chief refereeing officer Howard Webb, to thoroughly review officiating errors in Premier League matches last weekend.
"There was a focus on error prevention and a reinforcement of best practice process with the aim of achieving accurate outcomes in an efficient manner going forward.
"We accept mistakes were made and we acted accordingly by calling a meeting and changing match official appointments where appropriate, however, we are encouraged by the way our officials have responded and are confident they will take the learnings forward, always with the aim of delivering high officiating standards for the benefit of the game."
A Premier League spokesperson said: "The Premier League sets high standards and is disappointed that PGMOL fell below those expectations last weekend. As a result the Premier League requested that PGMOL review and explain a number of incidents from the recent match round.
"Following discussions with PGMOL, and today's Select Group One review meeting, we support PGMOL's views on addressing these issues to improve performances going forward."