Eddie Howe has admitted Newcastle's new-found status as a threat to the Premier League's big guns will make life difficult in the future.
The Carabao Cup finalists added Everton frontman Anthony Gordon and promising West Ham full-back Harrison Ashby to their ranks during the January transfer window, but their long-standing interest in midfielder Conor Gallagher came to nothing as Chelsea refused to allow him to join a top-six rival.
Asked if other clubs are now seeing the Magpies as genuine competition, Howe replied: "I think it is potentially difficult for us. It depends on the player and it depends on the club, but I think we're probably aware we are seen differently this season to how we were last season.
"We are viewed differently probably by some clubs now and that is something we will have to adjust to."
Newcastle are having to adjust on many different fronts after securing a first cup final berth since 1999 by virtue of Tuesday night's semi-final win over Southampton to keep alive their hopes of ending a trophy drought which dates back to 1969, while at the same time maintaining their push for a best league finish since the Sir Bobby Robson era.
They head into Saturday evening's home clash with West Ham sitting in third place and with head coach Howe insisting they must adopt a big club mentality to fighting on two fronts at the same time.
He said: "It's about not getting carried away with that achievement in itself, it's about saying that was our expectation of ourselves before the game and we hit our expectations. Now we shift our attention to a different competition we want to excel in.
"I don't think extreme emotions serve you that well."
That said, the sense of excitement pervading the city is palpable, and that extends to the Howe household and in particular, his three sons.
The 45-year-old said: "They're very excited, which is great to see. They're Newcastle supporters. Take away their relationship with me, they just want the team to do well, so they'll be excited for Wembley."
He added with a smile: "I've just gone to a vision of my youngest son, who calls Wembley 'Wombley' – he can't quite get the pronunciation right."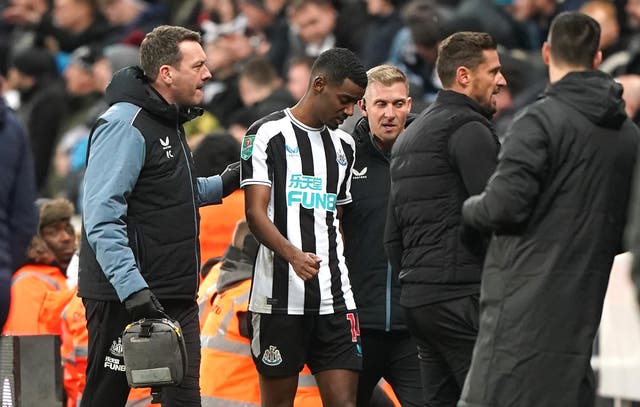 Howe said: "He had very slight signs of concussion, so we followed all the protocols. Whether he will be available or not, I'm not sure.
"He's been around and he's looked fine. I don't think he's got any ill-effects. I don't think he had any ill-effects the next day. Every day he's felt better. He's fine, no problems."