Bruno Fernandes is delighted to have Jadon Sancho back and new signing Marcel Sabitzer in the ranks as Manchester United look to end a frantic February with Carabao Cup glory.
Erik ten Hag will lead his side out at Wembley on February 26 against Newcastle after Wednesday's 2-0 win against Nottingham Forest wrapped up a 5-0 aggregate semi-final triumph.
It is a chance for United to end their worst trophy drought in 40 years, having failed to lift silverware since winning the Europa League in 2017.
"Obviously it's amazing for us," said Fernandes, who captained the side in the 2021 Europa League final shootout loss to Villarreal.
"You come to this club to be in the position to win trophies and we are in a massive position now.
"But obviously our focus now has to be straight on the league because we have six games before that, league and Europa League, so we have to put the full focus on that."
United kicked off a run of eight February fixtures on Wednesday, when Sancho received a superb reception as he made his first appearance since October.
"He's been really good," Fernandes said of Sancho. "As I said to him, it's great to have him back because we know he is a massive solution for us.
"We all know the capacity that he has. He hasn't expressed it at his best yet, but he's been at some moments really good."
Fernandes was also delighted to see Anthony Martial return from injury and hopes Scott McTominay is back soon, while he revealed Diogo Dalot is training again.
United have also responded to Christian Eriksen's three-month injury lay-off by making a deadline-day loan swoop for Bayern Munich midfielder Sabitzer.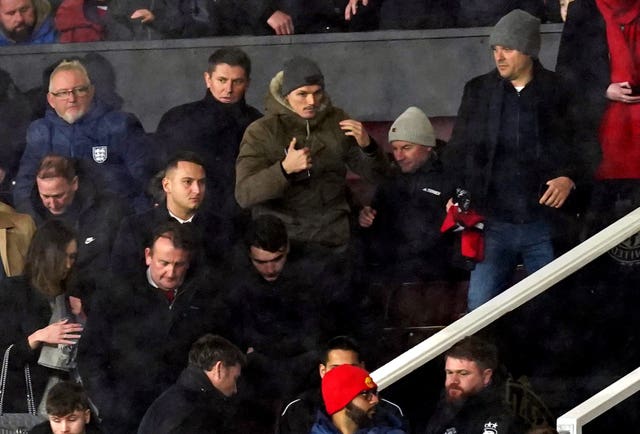 "He's another one who'll make it difficult for everyone in the team to have a place. Even for him, he's knows he has to push himself to the highest level to be playing for us now.
"We're really happy to have him, we think he can help us.
"(Thursday) I'll be with him, I'll talk a little bit with him and see. I think he's fully fit, he's been playing, so hopefully he'll help us a lot."
The fact Sabitzer jumped at the chance to join United from perennial Bundesliga champions Bayern underlines how far the club have come since their wretched 2021-22 campaign.
"Everything has to change," Fernandes said when looking back to last season. "When you're getting these kinds of results, these kinds of performance, I think since the beginning of the season even on tour we did really well.
"We started to get into the ideas of the manager. The new players that've come, they come to help. The ones that were here before are getting more confidence because they win games.
"I think last year was about the confidence. You win one game, you lost another one, you draw another one – you never get that run of victories that gave you the confidence to keep going and keep pushing yourself to do the best.
"We had a bad feeling that any moment of the game could go against us – a corner, a shot, some moment.
"The confidence was low and that creates uncertainty but obviously I think this season the main thing was the results. You get more confident.
"The idea of the manager is on the team, you can see it. The players that came to the club are also making a part of that but the ones that stayed are also playing and making a part of that too.
"I think it's the togetherness of all those points I've touched on that make us now in a better position."
Forest boss Steve Cooper said: "He felt his Achilles in the warm-up. It was a risk that he and we couldn't really take.
"(Emmanuel) Dennis came in and looked a real threat at times."