The Football Association is understood to be considering an appeal after FIFA fined it more than £50,000 because three England players have been wearing unauthorised socks at Russia 2018.
Dele Alli, Eric Dier and Raheem Sterling have been wearing the Devon-made Trusox over their official Nike socks and have ignored a FIFA warning to stop doing so.
In a statement published on its website four-and-a-half hours before England's World Cup semi-final against Croatia, FIFA said it was fining the FA 70,000 Swiss francs for "breaching media and marketing regulations and the FIFA equipment regulations".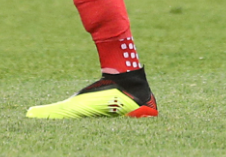 "In particular, several members of the English national team continued to display unauthorised commercial branding on playing equipment items before and during the quarter-final match between Sweden and England."
This brings the total number of players to be sanctioned for wearing the non-slip sports socks during the game in Samara to four, as Sweden's Andreas Granqvist has already been punished.
Press Association Sport, however, understands the FA is likely to appeal against the severity of fine.