Stuart Broad insists his time is about to come again soon – whether or not Joe Root wants him to continue opening the bowling for England.
Broad, just one wicket short of 400 in Tests as a two-match series against New Zealand begins in Auckland this week, still regards himself as a "streak bowler" who changes games in unstoppable spells.
It is a characteristic which has defined the majority of his stellar Test career, yet has been absent for the past two years.
Not since his match and series-winning six for 17 against South Africa in January 2016 has he been close to his brilliant best.
Broad laboured through England's 4-0 Ashes defeat this winter, but is adamant he is back on track.
"Yes, I haven't had that streak for a bit of time, but I do feel like my time is coming," he said.
"Whether it's in these two Tests or whether it's in England, it is coming."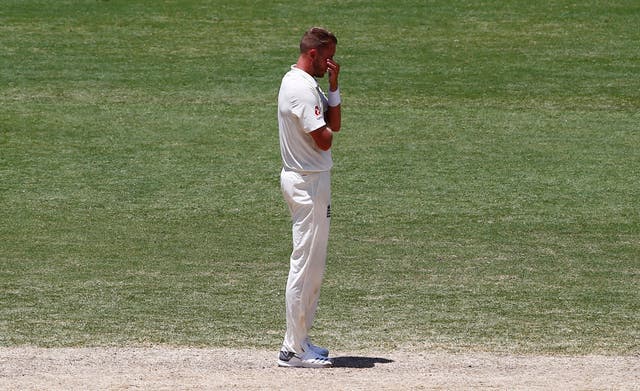 But he added: "I think once I'm gone people will look back at me as a streak bowler – someone who's able to change momentum in games – that's how I view myself as a cricketer.
"I want to be the person you turn to when you need something exciting to happen – let's try and break this Test match open.
"That's how I've played my cricket, and (it) actually influenced some of the changes I made in February."
"I wanted to get back to the feel of cricket because I am a 'feel' cricketer. I've got that buzz back," he said.
"It's where I need to be as a cricketer, and I hope that will come to fruition in the foreseeable future."
It may not be with the new ball here – although Broad reports, after a conversation with coach Trevor Bayliss, that issue is still up in the air.
Broad has bought into a new fluidity of plans as England try to address their poor Test form of late away from home.
"It's that sort of thinking that's coming into the bowling group rather than just 'these two blokes have to take the same new ball – that's how the mantra works'," he said.
"We're going to try and be a bit more flexible.
"We're just trying to find ways to improve really – because there's no hiding place from the fact away from home we haven't got it right."
What of that all-important next wicket, though?
It will be a proud achievement, albeit one Broad wishes had come round just that little bit quicker.
"I'm desperate to get 400 – but regardless of the individual wickets, I think over a long period of time it's proof that I've put a lot of dedication into it," he added.
"Of course, it would be a very nice club to join – but it's been a long time coming over the last six months."