A man who had been shouting at people on a New York subway train died after fellow passengers tackled him and one put him in a chokehold that lasted until his body went limp, US police said.
Jordan Neely, 30, died from compression of the neck, according to the city's medical examiner.
Mr Neely was known to some New Yorkers as a Michael Jackson impersonator who regularly danced in the Times Square transit hub.
On Monday afternoon, he was yelling and pacing back and forth on a train in Manhattan, witnesses and police said, when he was restrained by at least three people, including a US Marine veteran who pulled one arm tightly around his neck.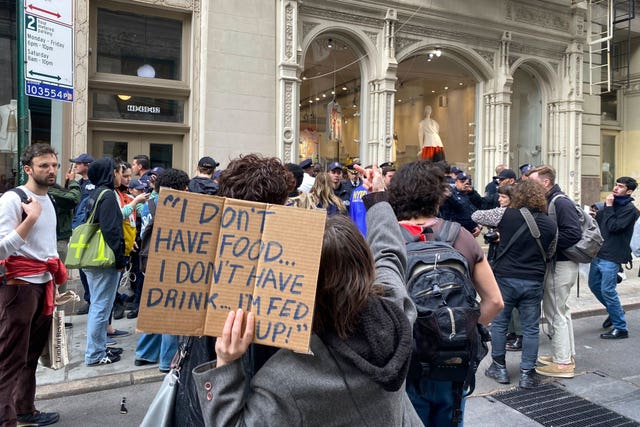 A second passenger pinned Mr Neely's arms while a third person held down his shoulder.
It was unclear why the group had moved to restrain him.
Mr Neely, who is black, lost consciousness during the struggle. Paramedics and police arrived after the train stopped at a station but he was pronounced dead at a Manhattan hospital shortly afterwards.
The 24-year-old Marine veteran, who appeared to be white, was taken into custody and released without charges. His name has not been released publicly.
The medical examiner's office classified Mr Neely's death as a homicide and the manner as a chokehold but noted that any determination about criminal culpability would be left to the legal system.
The Manhattan district attorney's office said it is investigating.
"As part of our rigorous ongoing investigation, we will review the medical examiner's report, assess all available video and photo footage, identify and interview as many witnesses as possible, and obtain additional medical records," a spokesperson for the DA said.
A group of protesters gathered on Wednesday afternoon in the station where Mr Neely died to call for an arrest. Kyle Ishmael, a 38-year-old Harlem resident, said the video of the incident left him feeling "disgusted".
"I couldn't believe this was happening on my subway in my city that I grew up in," he said.
Mr Neely's death comes amid a period of heightened public attention on both homelessness and mental illness on New York City's streets and subways.
Following several high-profile incidents, including a shooting on a subway train that left 10 people wounded last year, Mayor Eric Adams promised to deploy additional police officers and mental health workers throughout the transit system.
The freelance journalist who recorded the incident, Juan Alberto Vazquez, told the New York Post that Mr Neely was screaming "in an aggressive manner" and complaining of hunger and thirst.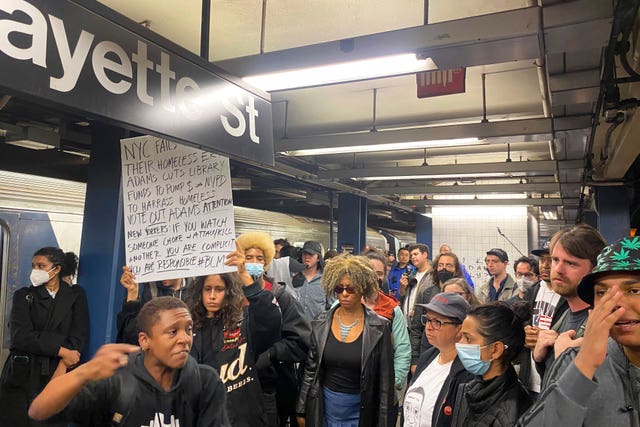 The video starts with Mr Neely already on the subway car's floor, with the man's left arm around Mr Neely's neck, locked into his other arm positioned against the man's head.
A second man holds Mr Neely's outstretched arm while pinning the other hand against his body. Mr Neely is mostly still but half a minute later tries to struggle out of the headlock. Eventually, he goes limp.
Dave Giffen, the executive director at Coalition for the Homeless, blamed city and state officials for an inadequate response to the mental health crisis — and questioned why the Marine veteran was not facing criminal charges.
"The fact that someone who took the life of a distressed, mentally ill human being on a subway could be set free without facing any consequences is shocking," he said. "This is an absolute travesty that must be investigated immediately."