Pope Francis has met people from both sides of Russia's war with Ukraine – greeting some of the 2.5 million Ukrainian refugees who have fled across the border to Hungary during a public prayer service, before a private meeting with an envoy of the pro-Kremlin Russian Orthodox Church.
Francis maintained the Vatican's tradition of diplomatic neutrality during his second day in Budapest, where he is on a weekend visit to minister to Hungary's Catholic faithful.
Starting the day, he thanked Hungarians for welcoming Ukrainian refugees and urged them to help anyone in need. He called for a culture of charity in a country where Prime Minister Viktor Orban justified firm anti-immigration policies with fears that migration threatens Europe's Christian culture.
Speaking in the white-brick St Elizabeth's church, named after a princess who renounced her wealth to care for the poor, Francis recalled that the Gospel instructs Christians to show love and compassion to all, especially those experiencing poverty and "even those who are not believers".
He said: "The love that Jesus gives us and commands us to practice can help to uproot the evils of indifference and selfishness from society, from our cities and the places where we live – indifference is a plague – and to rekindle hope for a new, more just and fraternal world, where all can feel at home."
Hungary's nationalist government has implemented firm anti-immigration policies and refused to accept many asylum-seekers trying to enter the country through its southern border, leading to prolonged legal disputes with the European Union.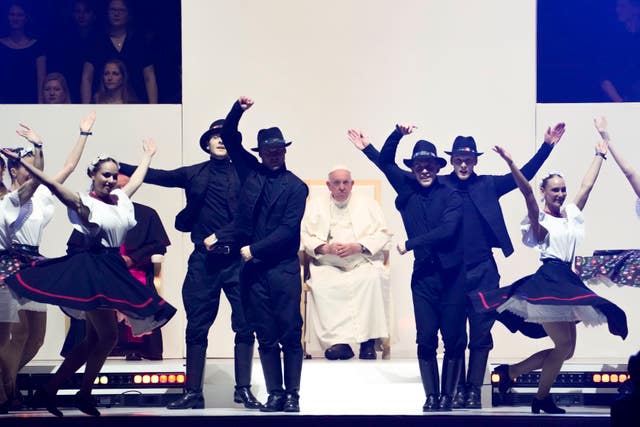 While his government has consistently rejected asylum-seekers from the Middle East and Africa, around 2.5 million Ukrainians fleeing war in their country found open doors.
Around 35,000 of the refugees remain in Hungary and have registered for temporary protection there, according to the UN.
Immediately after greeting and encouraging the refugees, Francis visited the Greek Catholic church next door, which has been providing aid to refugees.
Then, he met with the Russian Orthodox Church's representative in Hungary, Metropolitan Hilarion, who developed close relations with the Vatican during his years as the Russian church's foreign minister.
The Vatican said the 20-minute meeting at the Holy See's embassy in Budapest was "cordial".
Francis and Kirill had a 2016 encounter in Cuba that marked the first between a pope and the head of the Russian church. They had planned a second one in June, but the meeting has been indefinitely postponed over Kirill's support for the war.
In a statement, Hilarion's office said that he briefed Francis on the social and educational activities of the Russian church in Hungary and its relations with the Catholic Church here. He said that he gave the pope an Italian translation of a six-volume opus on the life of Christ.
Francis' visit to Hungary, his second in as many years, is bringing him as close as he has come to the front lines of the war. Upon arriving in Budapest on Friday, he denounced the "adolescent belligerence" that had brought war back to European soil and demanded the EU recover its values of peaceful unity to end it.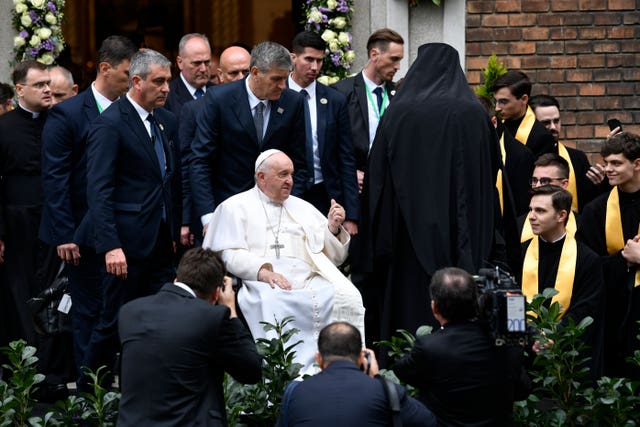 Francis started his Saturday visiting with children who have visual and physical disabilities. In the afternoon, he had his first big public event in Hungary, a youth rally at the city's sports stadium where he was given a singularly Hungarian gift: A Rubik's Cube, the colourful puzzle invented by Hungarian architect Erno Rubik.
In an event staged like a rock concert, Francis jazzed up the crowd riding around in a mini golf cart-like vehicle.
And he repeated his frequent appeal to young people to put aside their mobile phones and get back to socialising face-to-face: "Please don't virtualize your lives," he said, to laughs.
Francis wraps up his visit with an open-air Mass on Sunday and a speech at Pazmany Peter Catholic University in Budapest.