Russian-appointed authorities in Crimea said the military has fended off a Ukrainian strike on the port of Sevastopol, while a drone was also reportedly found in a forest near Moscow – attacks that come as Ukraine is believed to be preparing for a major counter-offensive.
The Moscow-appointed head of the port city of Sevastopol in Crimea, Mikhail Razvozhayev, said the military destroyed a Ukrainian sea drone that attempted to attack the harbour in the early hours.
He said another drone blew up without inflicting any damage.
The attack was the latest in a series of attempted strikes on Sevastopol, the main naval base in Crimea that Russia illegally annexed in 2014.
Ukrainian authorities did not immediately comment on Monday's strikes.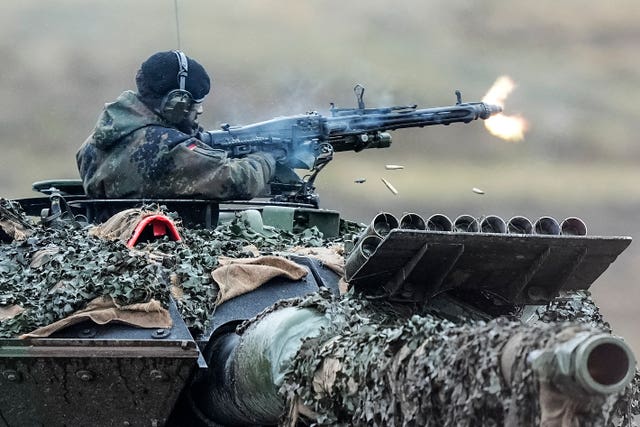 Russian news reports also claimed on Monday that a Ukrainian exploding drone was found in a forest in a forest about 19 miles east of the Russian capital.
While it didn't explode, the incident again underlined Ukraine's capability to reach deep inside Russia as the Ukrainian military is thought to be preparing for a spring counter-offensive to reclaim occupied areas.
Observers believe that the counteroffensive's most likely target would be the Russian-held parts of the southern Kherson and Zaporizhzhia regions.
If the push is successful, it would allow Ukraine to cut the land corridor between Russia and Crimea.
In what could be preparations for such a move, Ukrainian forces have recently established a foothold near the town of Oleshky on the eastern bank of the Dnieper River, according to the Institute for the Study of War, a Washington-based think tank.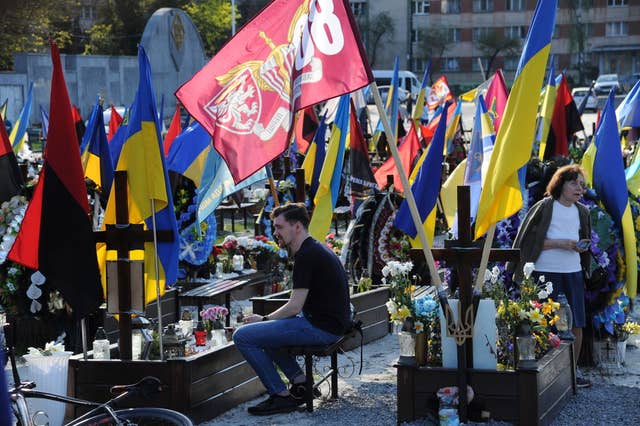 American-made Patriot missiles arrived in Ukraine last week and military spokesman Yuriy Ihnat said on Ukrainian television that some have already gone into service.
The Russian forces, meanwhile, have continued their nearly nine-month effort to capture the Ukrainian stronghold of Bakhmut in the eastern Donetsk region.
Russian military bloggers speculated that a Ukrainian counter-offensive could be accompanied by a slew of drone attacks on broad areas.
Russian media identified the drone that fell near Moscow as a Ukrainian-made UJ-22 Airborne. They said it was found Sunday by a local resident. The reports alleged that the drone crashed after running out of fuel or hitting a tree. They said it carried 17 kilograms (37lbs) of explosives.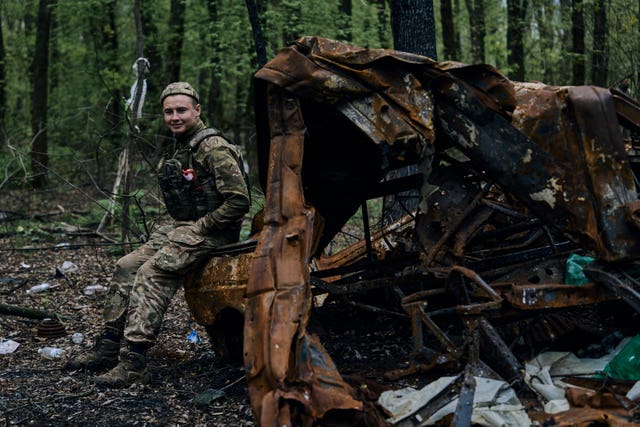 Last month, another drone that the authorities suspected also came from Ukraine was found in Shchelkovo, about nine miles north-east of Moscow, although it did not carry explosives.
Also in March, a heavy Ukrainian Tu-141 Strizh jet-powered drone exploded in the city of Kireyevsk in the Tula region about 124 miles east of Moscow, injuring three, leaving a big crater and damaging several buildings. The Russian defence ministry said the drone was brought down by air defences.
Russian authorities have said that Ukraine has used the Soviet-made Tu-141 drones that have a range of about 620 miles to strike facilities in Russia. In December, such drones hit two Russian air bases for long-range, nuclear-capable bombers. The Russian defence ministry said the drones were shot down, but it acknowledged that the debris damaged some aircraft and killed several servicemen.
In February, the authorities also reported that a Ukrainian drone was found in a forest near Gubastovo in the Kolomna region, about 50 miles south-east of Moscow. The drone fell close to a major natural gas pumping facility, its apparent target.
Another drone exploded in February in a forest near Kaluga, about 93 miles south-east of Moscow. No-one was hurt.
Ukraine's presidential office said on Monday that at least four civilians were killed and 13 others wounded by the latest Russian attacks over the previous 24 hours.
Two people were killed in Bakhmut and two others in the southern city of Kherson.