Ukrainian military forces have successfully established positions on the eastern side of the Dnieper River, according to a new analysis, giving rise to speculation that the advances could be an early sign of Kyiv's long-awaited spring counteroffensive.
The Institute for the Study of War (ISW), a US-based think tank, reported on Saturday that geolocated footage from pro-Kremlin military bloggers indicated that Ukrainian troops had established a foothold near the town of Oleshky, along with "stable supply lines" to their positions.
Analysts widely believe that if Ukraine goes ahead with a spring counteroffensive, a major goal would be to break through the land corridor between Russia and the annexed Crimean Peninsula, which would necessitate crossing the Dnieper River in the country's south.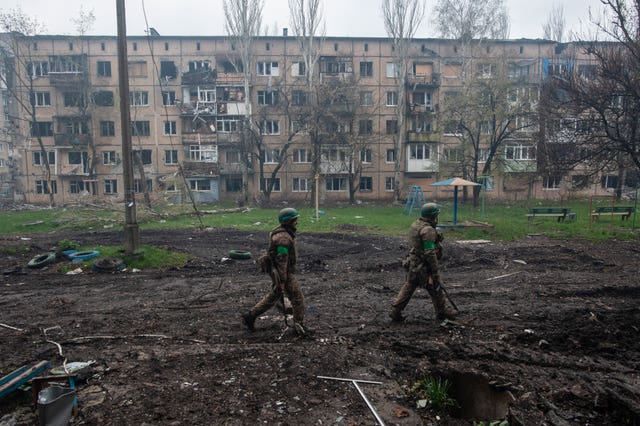 While neither confirming nor denying the ISW report, she said only that details of military operations in the Dnieper delta could not be disclosed for operational and security reasons.
Speaking on Ukrainian television, Ms Humeniuk added that it was "very difficult work" when "it's necessary to overcome an obstacle such as the Dnieper, when the front line passes through a wide and powerful river".
The Kremlin-installed head of the Kherson region, one of four parts of Ukraine that Russia said it was illegally annexing in September, denied on Sunday that Ukrainian forces had established a foothold on the east bank of the Dnieper, Russia's state RIA Novosti agency reported.
According to RIA, Vladimir Saldo told its reporters that Russian forces were "in full control" of the area, and speculated that the images referenced by the ISW may have depicted Ukrainian sabotage units that "managed to take a selfie" across the Dnieper before being forced back.
After more than a year since the Russian invasion, recent fighting has become a war of attrition, with neither side able to gain momentum.
But Ukraine has recently received sophisticated weapons from its western allies, and new troops freshly trained in the West, giving rise to growing anticipation of a counteroffensive.
The fiercest battles have been in the eastern Donetsk region, where Russia is struggling to encircle the city of Bakhmut in the face of dogged Ukrainian defence.
On Sunday, Russian defence ministry spokesman Igor Konashenkov claimed Moscow's forces had captured two more neighbourhoods in the western part of Bakhmut, without providing further details or clarifying what areas were still in Ukrainian hands.
In the south, the Dnieper has for months marked the contact line in the Kherson region, where its namesake capital is regularly hit by shelling from Russian forces stationed across the river.
In addition to having established a foothold near the town of Oleshky, across the Dnieper delta from Kherson, ISW said that Ukrainian troops were also approaching the nearby village of Dachi, citing data from Russian military bloggers.
In Telegram posts on Thursday and Saturday, ISW said the bloggers claimed that Ukrainian forces had maintained these positions for weeks and established stable supply lines to them, indicating a lack of Russian control over the area.
Russia is also expected to launch more intensive attacks in the spring, but ISW reported that top Russian defence figures were showing signs that they may be pushing for a consolidation of existing gains in Ukraine, rather than costly new operations, as Moscow struggles with both material and manpower.
The think tank cited comments from financier Yevgeniy Prigozhin, the head of the Wagner Group — a private Russian military company whose fighters have spearheaded the offensive on Bakhmut.
On Saturday, Mr Prigozhin's press service posted comments he made on its official Telegram channel in which he argued that Russian forces needed to "anchor (themselves) in such a way that it is only possible to tear them out with (the) opponent's claws".
The interview was published shortly after western leaders meeting at Ramstein Air Base in Germany pledged to train more Ukrainian personnel and keep up their military support for Kyiv.
As Moscow seeks to bolster its troop numbers, the Ministry of Defence in the UK noted on Sunday in an intelligence briefing that Russian authorities had mounted a large-scale military recruitment campaign using social media, billboards and state television.
It said Russian officials were "almost certainly seeking to delay any new, overt mandatory mobilisation for as long as possible to minimise domestic dissent", while assessing that this latest effort would likely fail to meet the defence ministry's stated goal of recruiting
400,000 new volunteers.