Portugal's president welcomed President Luiz Inacio Lula da Silva of Brazil on an official visit on Saturday, as the Brazilian leader looks to strengthen ties between the two countries.
Portuguese President Marcelo Rebelo de Sousa received Mr Lula and Brazilian first lady Rosangela da Silva in an official ceremony at the Jeronimos Monastery in Lisbon.
Portugal is home to more than 250,000 Brazilians, and some were on hand to cheer the visiting president.
During his first joint press conference with Mr Sousa, Mr Lula avoided feeding the controversy regarding his recent comments about Western military aid fuelling Ukraine and Russia's conflict.
The Brazilian leader reiterated his proposal that a group of nations including Brazil mediate a peaceful resolution to the war.
"I never equalled both countries, because I know what an invasion is and what territorial integrity is," he said.
"And all of us think Russia is wrong and we already condemned it in every UN decision."
The trip is Mr Lula's first to a European country since he defeated incumbent Jair Bolsonaro and won a third non-consecutive term in October.
While in Portugal, the left-wing leader aims to secure about a dozen agreements on trade and migration.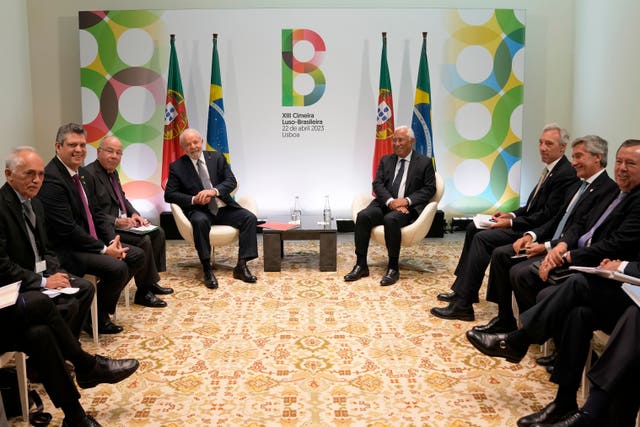 The event will be the setting for the signing of 13 bilateral agreements, including a cooperation deal between the space agencies of Brazil and Portugal.
Before departing for Spain on Tuesday, Mr Lula's itinerary includes a prize-giving ceremony on Monday to honour renowned Brazilian musician Chico Buarque and a visit to Brazilian airline manufacturer Embraer's factory near Lisbon.