One person died and 19 were treated in hospital after a Dutch passenger train hit a construction crane and derailed near The Hague in the early hours of Tuesday, sending two carriages into a field next to the tracks.
Police have opened an investigation to establish if any crime was committed while an independent probe has begun into the cause of the crash.
Many windows in the carriages were broken but it was not clear if that happened during the accident or as passengers attempted to escape.
Two of the bright yellow and blue train carriages came to rest perpendicular to the tracks across the small canal and partially in a field. What appeared to be the front of the train was badly damaged while other parts of the train were partially derailed.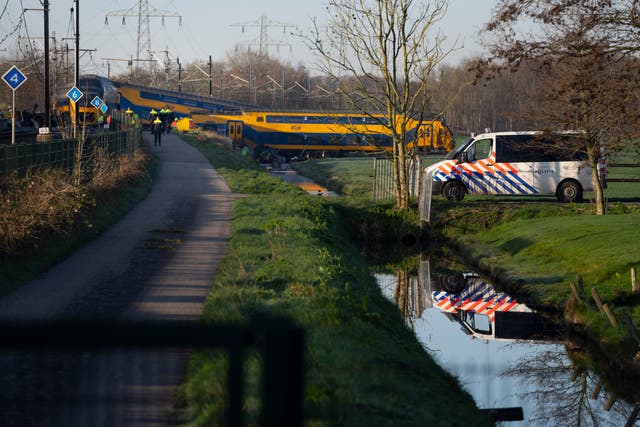 The four-carriage train was carrying about 50 passengers at the time of the crash.
John Voppen, CEO of the rail network company Pro Rail, said that the passenger train and a freight train both hit a crane that was being used to carry out maintenance work.
He said the crane was on tracks that were not being used by train traffic and it is not clear how the trains collided with the crane.
"We don't understand how this could have happened," he told reporters at a news conference.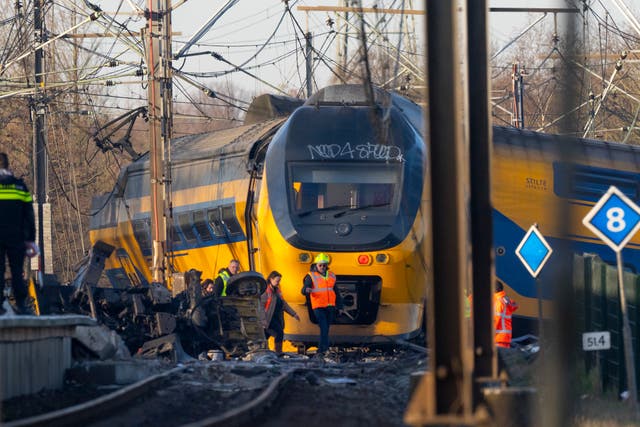 Railway company NS also said in a statement that a passenger train, a freight train and a construction crane were involved in a collision but the company gave no further details.
"Like everyone else, I'm full of questions and we want to know exactly what happened," NS CEO Wouter Koolmees said in a statement. "A thorough investigation must be carried out. At the moment, all attention is focused on the wellbeing of our travellers and colleagues."
The regional coordinator of emergency services said that 11 of the injured passengers were treated in homes near the line and 19 were taken in a fleet of ambulances to five hospitals, including a "calamity hospital" opened in the central city of Utrecht.
"A terrible train accident near Voorschoten, where unfortunately one person died and many people were injured. My thoughts are with the relatives and with all the victims. I wish them all the best," Dutch prime minister Mark Rutte said in a tweet.
Dutch King Willem-Alexander and Queen Maxima also expressed their sympathy in a tweet.
Ingrid de Roos, a spokeswoman for local fire services, told news show WNL that a small fire broke out at the rear of the train but was quickly extinguished.