Protesters have filled the streets of Paris and other French cities, a day after President Emmanuel Macron further angered his critics by standing strong on a Bill raising the retirement age that his government forced through parliament without a vote.
Violence marred several of the marches and strikes upended travel across the country as protesters blockaded train stations, Charles de Gaulle Airport in Paris, refineries and ports.
More than 250 protests were organised across the country and union leaders praised the "significant" mobilisation.
In Paris, street battles between police and black-clad, masked groups, who attacked at least two fast food restaurants, a supermarket and a bank, reflected intensifying violence and drew attention away from the tens of thousands of peaceful marchers.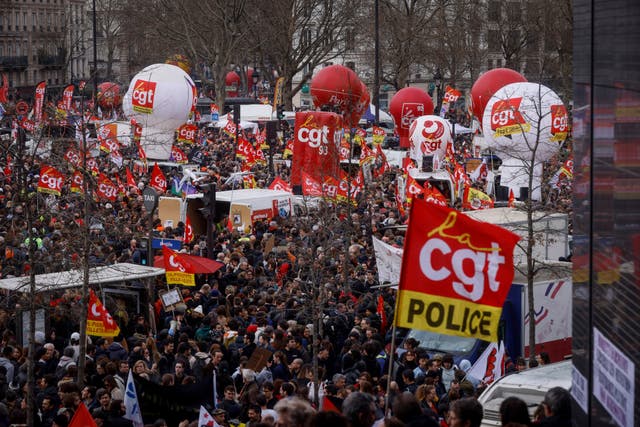 A haze of tear gas fumes covered part of the Place de l'Opera, where demonstrators converged at the march's end. Police estimated the "radical elements" at some 1,000 people.
Amid the chaos, one police officer was seen falling to the ground with his shield.
Colleagues dragged him to safety. Police said he was being treated but did not elaborate or say whether there were other injuries.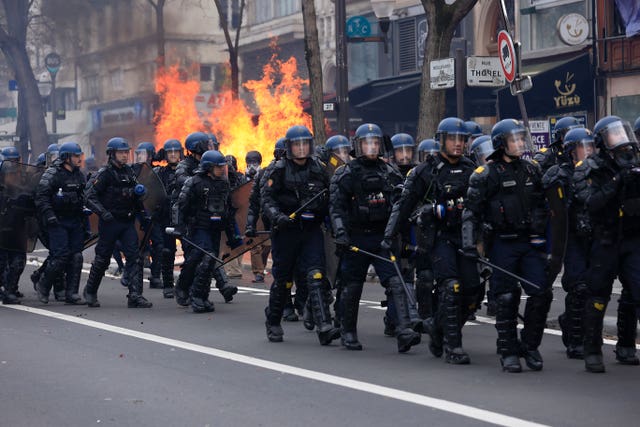 Interior minister Gerald Darmanin denounced "unacceptable assaults and damage" at a state building and a police station in Lorient. "These actions cannot remain unpunished," he tweeted.
High-speed and regional trains, the Paris metro and public transportation systems in other major cities were disrupted. About 30% of flights at Paris Orly Airport were cancelled.
The Eiffel Tower and the Versailles Palace were closed due to the strikes.
Protesters blockaded major roads and junctions to slow traffic around big cities.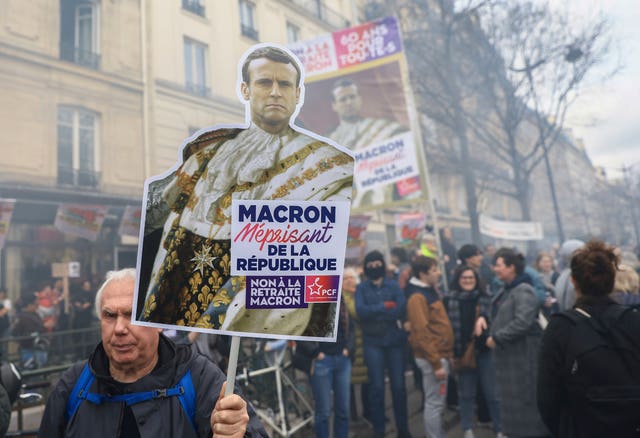 Violence has intensified in recent days at small, scattered protests against the pension reform and Mr Macron's leadership — in contrast with the largely peaceful big demonstrations staged by unions until then.
The French leader said on Wednesday that the government's Bill to raise the retirement age from 62 to 64 must be implemented by the end of the year.
Critics attacked him for the statement, describing him as "self-satisfied", "out of touch" and "offensive".
The leader of the CGT union, Philippe Martinez, said Mr Macron "threw a gas tank on the fire".
At Paris's Gare de Lyon station, several hundred strikers walked on the tracks to prevent trains from moving, brandishing flares and chanting.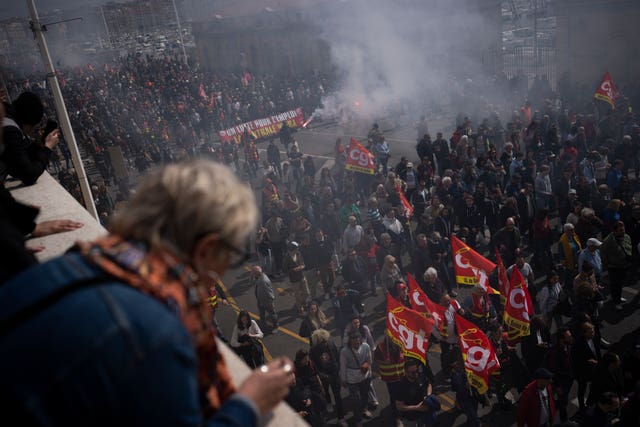 The Education Ministry said in a statement that about 24% of teachers had walked off the job in primary and middle schools, and 15% in high schools.
The French government invoked a constitutional provision last week to get the pension Bill adopted without the approval of legislators. It must pass a review by France's Constitutional Council before becoming law.
Mr Macron's government survived two no-confidence votes in the lower chamber of parliament on Monday.
The 45-year-old centrist president, who is in his second and final term, has repeatedly said he is convinced that France's retirement system needs to be modified to keep it financed.
Opponents proposed other solutions, including higher taxes on the wealthy or companies, which Mr Macron says would damage the economy.