Weeks of anti-government protests in Israel have turned violent for the first time as police fired stun grenades and a water cannon at demonstrators who blocked a road in Tel Aviv.
The crackdown came shortly after Israel's hard-line security minister urged a tough response to what he said are "anarchists".
The violence came as thousands across the country launched a "national disruption day" against the government's plan to overhaul the judicial system.
Prime Minister Benjamin Netanyahu's allies say the programme is meant to reduce the influence of unelected judges.
But critics, including influential business leaders and former military figures, say Mr Netanyahu is pushing the country towards authoritarian rule and has a clear conflict of interest in targeting judges as he stands trial on corruption charges.
The government is barrelling ahead with the legal changes and a parliamentary committee is moving forward on a Bill that would weaken the Supreme Court.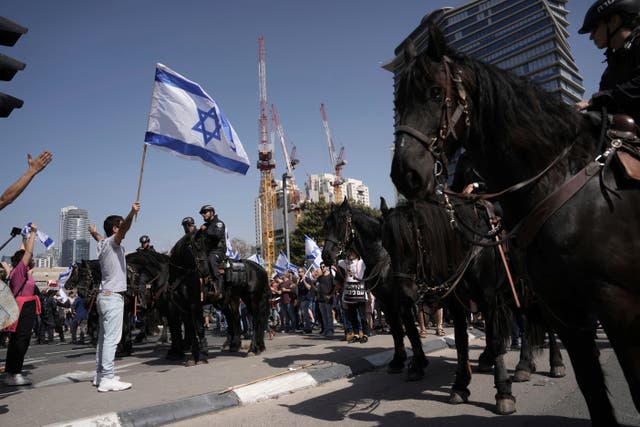 The rival sides are digging in, deepening one of Israel's worst domestic crises.
Mr Netanyahu and his government, made up of ultranationalists, have branded the protesters anarchists, while stopping short of condemning a West Bank settler mob that torched a Palestinian town earlier this week.
The legal overhaul has sparked an unprecedented uproar, with weeks of mass protests, criticism from legal experts and rare demonstrations by army reservists who have pledged to disobey orders under what they say will be a dictatorship after the overhaul passes.
Business chiefs, the country's booming tech sector and leading economists have warned of economic turmoil under the judicial changes. Israel's international allies have also expressed concern.
In the first scenes of unrest since the protests began two months ago, police arrived on horseback in the centre of the seaside metropolis of Tel Aviv, hurled stun grenades and used a water cannon against thousands of protesters who chanted "democracy" and "police state".
A video posted on social media showed a police officer pinning down a protester with his knee on the man's neck.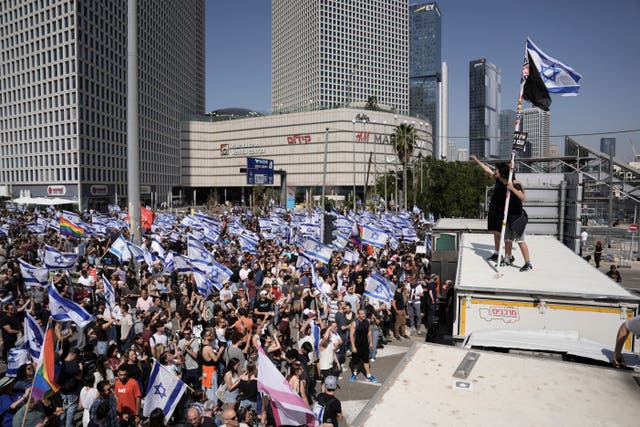 Earlier on Wednesday, protesters blocked Tel Aviv's main freeway and the highway connecting the city to Jerusalem, halting rush-hour traffic for about an hour. At busy train stations in Tel Aviv, protesters prevented trains from departing by blocking their doors.
National security minister Itamar Ben-Gvir, an ultranationalist accused of politicising the police, has vowed to take a tough line. He called on police to prevent the road blockages, labelling the demonstrators "anarchists".
Mr Netanyahu said Mr Ben-Gvir has his full support. "We will not tolerate violence against police, blocking roads and blatant breaches of the country's laws. The right to protest is not the right to anarchy," he said.
Opposition leader Yair Lapid called on police to show restraint.
"The protesters are patriots," he tweeted. "They are fighting for the values of freedom, justice and democracy. The role of the police is to allow them to express their opinions and fight for the country they love."
Thousands of protesters came out in locations across the country waving Israeli flags. Parents marched with their children, tech workers walked out of work to demonstrate and doctors in scrubs protested outside hospitals. The main rallies are expected later on Wednesday outside the Knesset, or parliament, and near Mr Netanyahu's official residence in Jerusalem.