More than 600 people have been killed after a 7.8-magnitude earthquake struck southern Turkey and northern Syria.
With hundreds injured, the death toll of 641 is expected to rise as rescue workers search through rubble in cities and towns across the area.
On both sides of the border, residents jolted out of sleep by the pre-dawn quake rushed outside as buildings were flattened and strong aftershocks continued.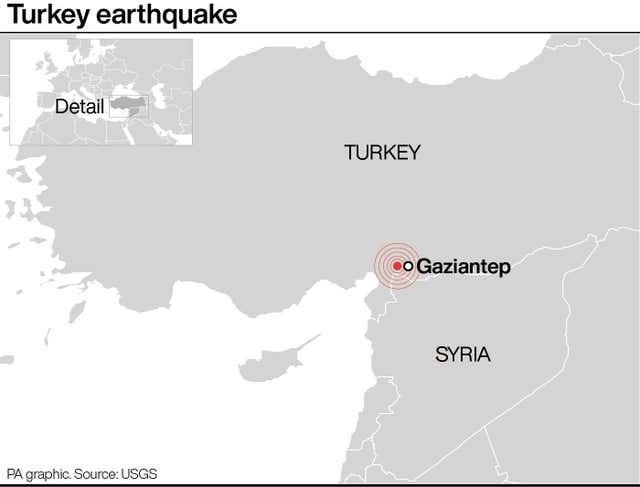 Buildings were devastated in the Turkish city of Adana, while further east in Diyarbakir, cranes and rescue teams rushed people on stretchers out of a mountain of pancaked concrete floors that was once an apartment building.
On the Syrian side of the border, the quake smashed opposition-held regions packed with some four million people who were displaced from other parts of Syria by the country's long civil war.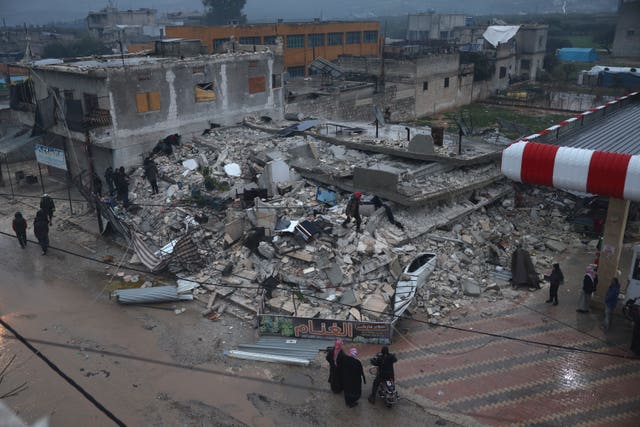 Raed Salah, the head of the White Helmets, the emergency organization in opposition areas, said whole neighbourhoods were collapsed in some areas.
The quake, which was felt as far away as Cairo, struck a region that has been shaped by more than a decade of civil war in Syria.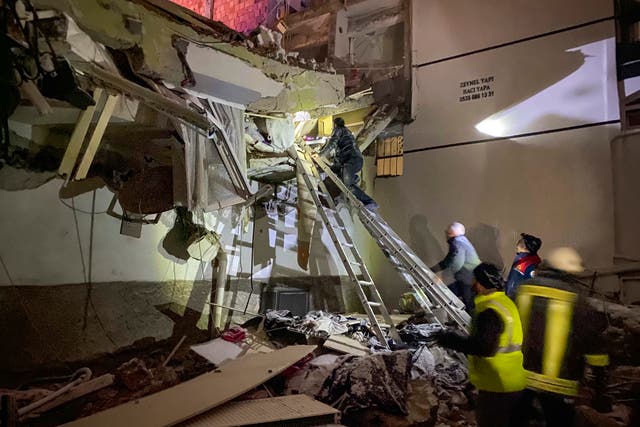 The quake was centred about 60 miles from the Syrian border outside the city of Gaziantep, a major Turkish provincial capital.
At least 20 aftershocks followed, some hours later during daylight, with the strongest measuring 6.6, Turkish authorities said.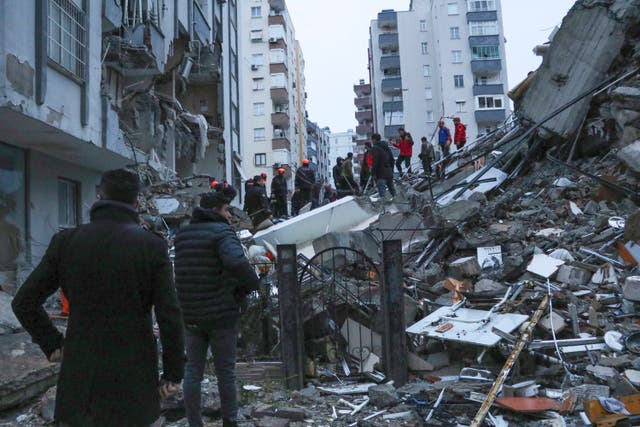 "We hope that we will get through this disaster together as soon as possible and with the least damage," he wrote.
Turkey's Disaster and Emergency Management agency said at least 284 people were killed in seven Turkish provinces. The agency said 440 people were injured.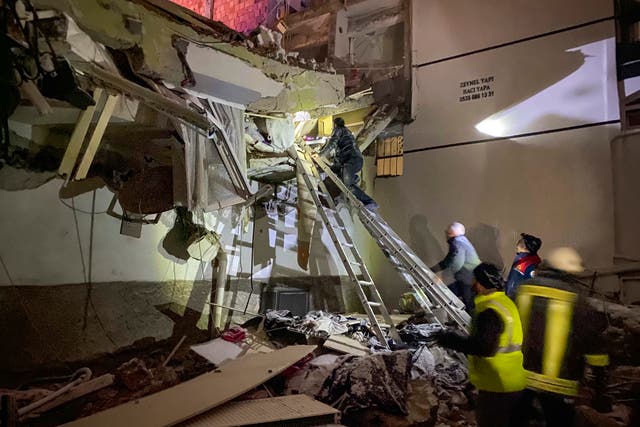 Buildings were reported collapsed in a cross-border region extending from Syria's cities of Aleppo and Hama to Turkey's Diyarbakir, more than 200 miles to the north-east.
In Turkey, people trying to leave the quake-stricken regions caused traffic jams, hampering efforts of emergency teams trying to reach the affected areas. Authorities urged residents not to take to the roads. Mosques around the region were being opened up as a shelter for people unable to return to damaged homes amid temperatures that hovered around freezing.
The quake heavily damaged Gaziantep's most famed landmark, its historic castle perched atop a hill in the centre of the city. Parts of the fortresses' walls and watch towers were levelled and other parts were heavily damaged, images from the city showed.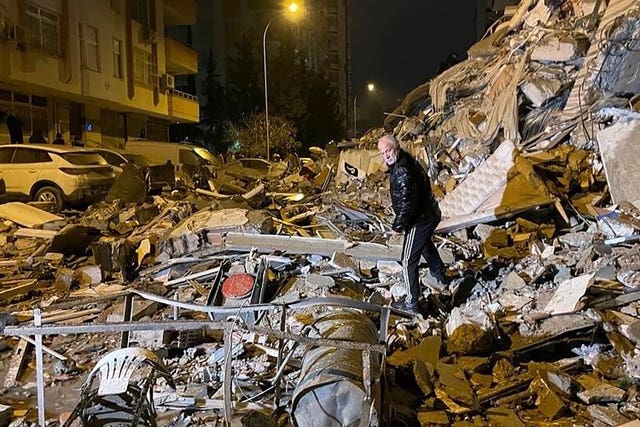 In north-west Syria, the quake added new woes to the opposition-held enclave centred on the province of Idlib, which has been under siege for years, with frequent Russian and government air strikes.
The territory depends on a flow of aid from nearby Turkey for everything from food to medical supplies.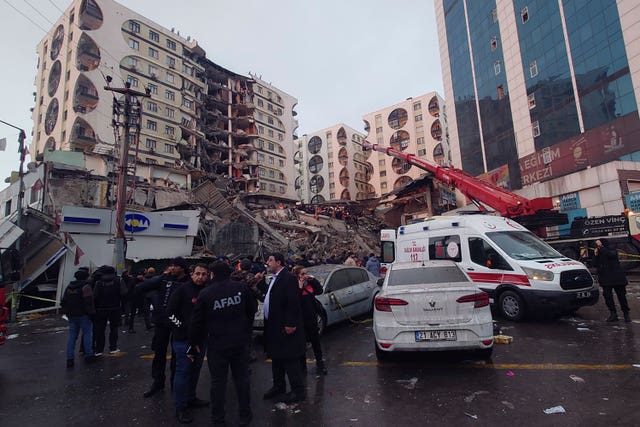 In the small Syrian rebel-held town of Azmarin in the mountains by the Turkish border, the bodies of several dead children, wrapped in blankets, were taken to a hospital.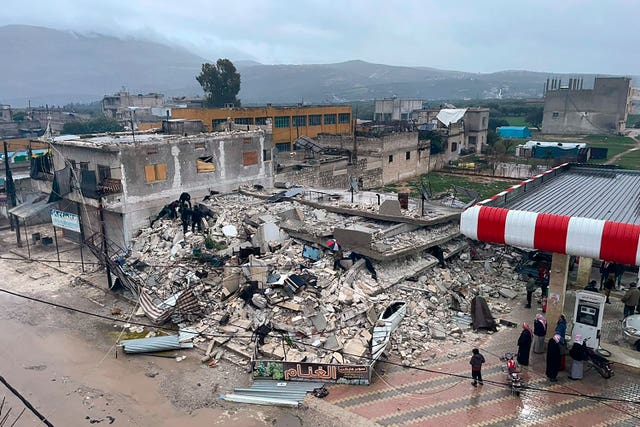 In Damascus, buildings shook and many people went down to the streets in fear. The quake jolted residents in Lebanon from beds, shaking buildings for about 40 seconds. Many residents of Beirut left their homes and took to the streets or drove in their cars away from buildings.
Turkey sits on top of major fault lines and is frequently shaken by earthquakes. Some 18,000 were killed in powerful earthquakes that hit northwest Turkey in 1999.