China has said it is "outraged" over US economic sanctions against a Chinese military agency and its director over the purchase of Russian fighter jets and surface-to-air missile equipment, and demanded the US cancel the measure.
Foreign Ministry spokesman Geng Shuang said Beijing has lodged stern complaints with Washington over the action, which triggers a ban on entering the US, forbids conducting transactions with the US financial system and forces the blocking of all property and interests in property within US jurisdiction.
"China is strongly outraged by this unreasonable action by the US," Mr Geng told reporters on Friday at a daily news briefing.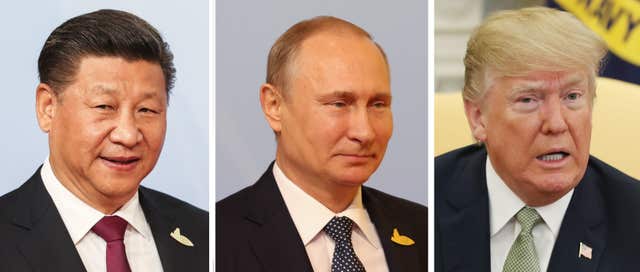 China's purchase of the weapons from Rosoboronexport, Russia's main arms exporter, violated a 2017 law, the Countering America's Adversaries Through Sanctions Act, intended to punish the government of President Vladimir Putin for interfering in US elections and other activities.
The sanctions were enacted "to further impose costs on the Russian government in response to its malign activities", Ms Nauert said in the statement.
The US will continue to "urge all countries to curtail relationships with Russia's defence and intelligence sectors, both of which are linked to malign activities worldwide", she added.