Britain is "the poor man of Europe" on insulation and needs a national retrofit mission to catch up, campaigners have said.
Net zero tsar Chris Skidmore has called for a "national retrofit delivery agency" to drive uptake of insulation and heat pumps in order to make the UK's homes greener and more energy efficient.
Launching a report on how Britain can retrofit its leaky homes, he said: "We know that Britain is the poor man of Europe when it comes to energy insulation and clean heat.
"Our homes lose heat the fastest – 3C in five hours compared to 0.3C in Sweden. We are bottom of the league when it comes to heat pump installation, 21 out of 21, installing just 30,000 heat pumps to France's 500,000.
"As a result, 80% of our domestic heating is gas, compared to 50% in the rest of Europe. For myself, the case is so obvious, so overwhelming, that retrofit isn't and could never be termed, to borrow a phrase from the Prime Minister, 'expensive insulation'.
"It is the easiest and most effective opportunity we have to reduce our demand for expensive fossil fuels, enhancing our energy security, and saving householders money on their bills, and saving society the wider costs of poor and draughty homes."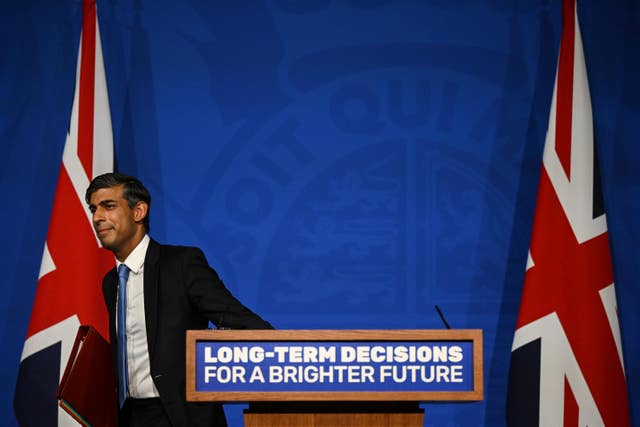 Mr Sunak said the Government would continue to subsidise energy efficiency measures – and expanded some schemes to help achieve that – but added he would "never force any household to do it".
In a speech on Tuesday, Tory MP Mr Skidmore welcomed the extra money for the boiler upgrade scheme and the introduction of the Great British Insulation Scheme, but said the UK needs to be "more ambitious".
He said: "The announcement by the Prime Minister in September 2023 to delay energy efficiency measures, and to delay the implementation of a new gas boiler end date, will likely have a detrimental impact on the wider retrofit and clean heat sector.
"After recent announcements rowing back on energy efficiency measures, the Government, or if not this administration, whoever forms a government in 2024, should provide urgent leadership by expanding the Great British Insulation Scheme into a national retrofit mission."
Campaign group Friends of the Earth welcomed Mr Skidmore's proposals.
The group's head of policy, Mike Childs, said: "Action to fix the scandal of Britain's heat-leaking homes is long overdue.
"Not only are cash-strapped households forced to pay far higher bills than necessary, it also means far more carbon pollution is being pumped into our atmosphere.
"A national retrofit programme should be a no brainer. It would cut bills, boost energy security and slash carbon emissions.
"That's why we need a free street-by-street insulation programme, focussing on neighbourhoods most in need – funded by a proper windfall tax on the vast profits of fossil fuel giants."