Grant Shapps has visited Kyiv and met Ukrainian President Volodymyr Zelensky.
The Defence Secretary used the visit to reaffirm the UK's commitment to support Ukraine as it defends itself against the Russian invasion of its territory.
In his second visit to Kyiv in two months, Mr Shapps held meetings with his Ukrainian counterpart Rustem Umerov, alongside the UK's chief of defence staff, Admiral Sir Tony Radakin.
Mr Shapps said: "It was an honour to meet President Zelensky in Kyiv to assure him that the UK will continue to stand shoulder to shoulder with Ukraine, as we have since Putin illegally invaded Crimea nearly 10 years ago.
"We have trained tens of thousands of Ukrainian soldiers, delivered hundreds of thousands of rounds of ammunition, and provided millions of pounds of economic and humanitarian aid to help Ukraine's citizens reclaim and rebuild what has been taken from them by Putin's barbaric invasion.
"Having heard the experiences of so many Ukrainians affected by this war, including a family I hosted in my home for a year, I am committed to maintaining the UK's military support – particularly as the freezing winter weather approaches."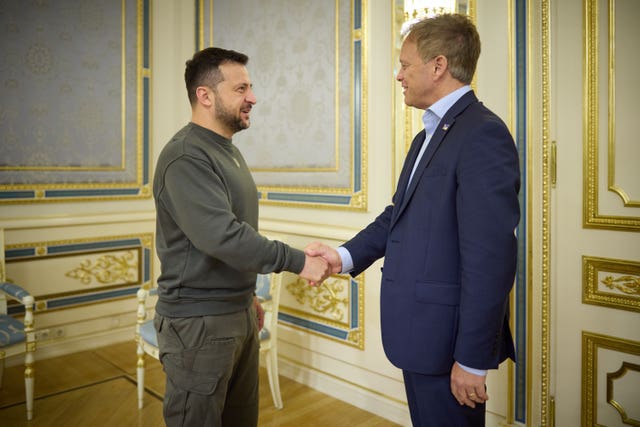 On that occasion, he discussed support for Ukraine's recovery from the war, and visited a children's nursery previously attended by one of the Ukrainian children he hosted in his home.
Like Mr Shapps, Ukrainian defence minister Mr Umerov is a recent appointee to his role.
Former defence minister Oleksii Reznikov was sacked amid an anti-corruption drive by Mr Zelensky, after concerns about procurement processes with Ukrainian defence.
The two defence ministers first met in Ramstein, Germany, during a meeting of 50 nations at last week's Ukraine Defence Contact Group.
Chief of the Defence Staff, Admiral Sir Tony, said new commitments of military aid first discussed in Ramstein would "help build Ukraine's strength and resilience through the winter and beyond".
He added: "The recent strikes on the Black Sea Fleet are another example of how Ukraine retains the initiative. Putin has lost control of the war he started, and Russia is diminished as a consequence."
"I am profoundly grateful to the UK for all the financial, humanitarian, and military support, including crucial long-range capabilities.
"We discussed further defence co-operation and steps to strengthen Ukraine's air defence."
Ukraine's offensive to push Russian forces out of occupied areas of its territory continues.
Last week, Ukrainian armed forces launched a missile strike against Russia's Black Sea fleet headquarters in Sevastopol.
Russia has accused Western nations allied with Ukraine of helping to plan and conduct the attack, which appeared to kill the fleet's top admiral.
However, Viktor Sokolov has apparently since appeared in a video conference call with other Kremlin chiefs.