Thunderstorms and 30C temperatures are forecast for Sunday, after the UK saw flooding and its hottest temperature of the year on Saturday.
Heavy rain and hail fell on Saturday evening across the North West as an amber warning for thunderstorms was issued.
But in other parts of the UK, the sun shone on the hottest day of the year – with temperatures of 32.2C reached in Surrey.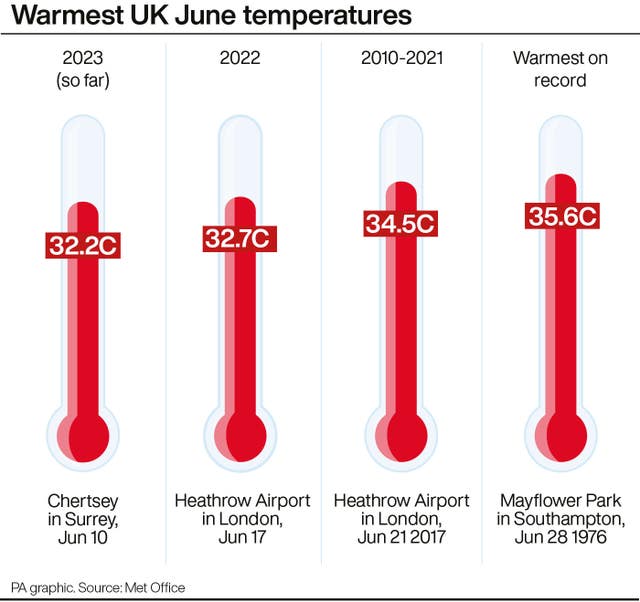 Amy Bokota, senior operational meteorologist, said the lower recording could have been due to where the gauges fell, and said areas in the North West would still have seen torrential rain and hail, while in other areas not too far away there were mostly clear skies.
In Worcestershire, a road had to be closed after a tree came down and brought a power line with it.
West Mercia Operations and Communications Centre tweeted saying the A4133 Holt Fleet was closed on Saturday evening after the tree fell following heavy rain.
Police officers urged residents to avoid the area for their own safety.
And the Charlotte Edwards Cup final between Southern Vipers and the Blaze was suspended on Saturday evening following heavy rain in Worcester, with play set to resume at New Road on Sunday's reserve day.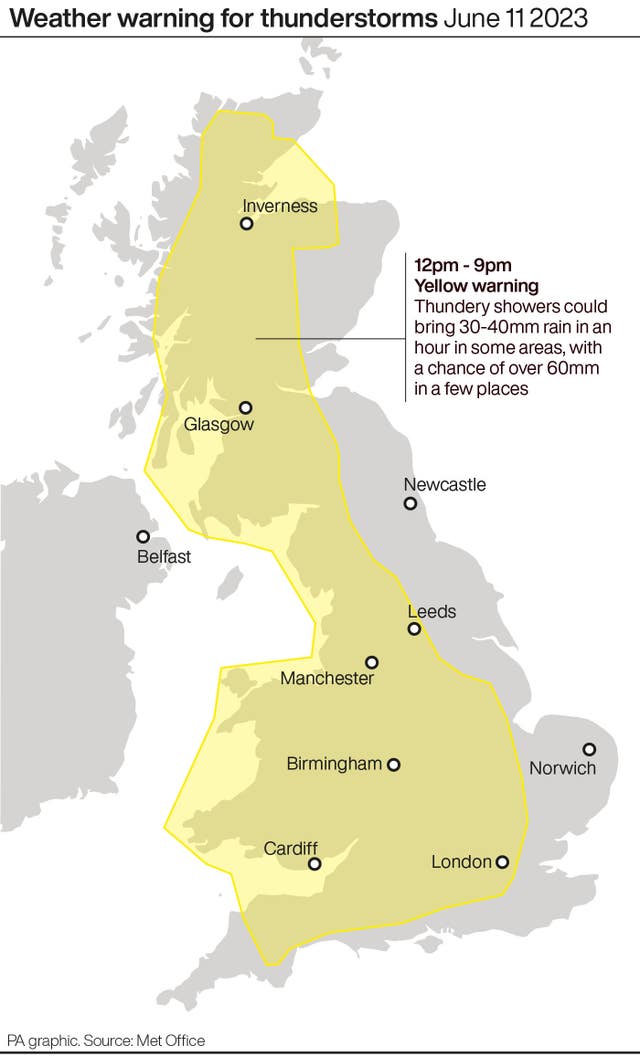 On Sunday, there is likely to be more cloud – with maximum temperatures of 32C, the Met Office added.
More hot weather is expected next week, with thunder and showers on Monday – but by Tuesday onwards it is likely to settle.
Most of the UK will meet heatwave criteria next week, the Met Office said.
The UK Health Security Agency (UKHSA) has issued an amber alert for hot weather until 9am on Tuesday in the West Midlands, East Midlands, east of England, South East and South West.
It means the impact of the heat is "likely to be felt across the whole health service… and the wider population, not just the most vulnerable".
A further yellow alert, which is less serious and warns that there may be some disruption to services due to weather conditions, is in place for the North East, North West and Yorkshire and Humber regions of England, as well as London.