Inquests will be held into the deaths of at least 36 former patients of the disgraced breast surgeon Ian Paterson, and dozens more could also be included, a hearing has heard.
Judge Richard Foster said a multi-disciplinary team of health professionals had so far reviewed 417 cases of Paterson's former patients where breast cancer was listed as a cause of death in part one of their death certificates.
Of those, 36 deaths have been confirmed as being subject of an inquest, a further 21 cases have been deemed likely to need an inquest after "preliminary" investigations, pending formal reports, with another 36 cases still to be reviewed.
Paterson was found guilty of 20 offences in 2017 relating to unnecessary and unapproved procedures on more than 1,000 breast cancer patients over 14 years and is now serving a 20-year prison sentence.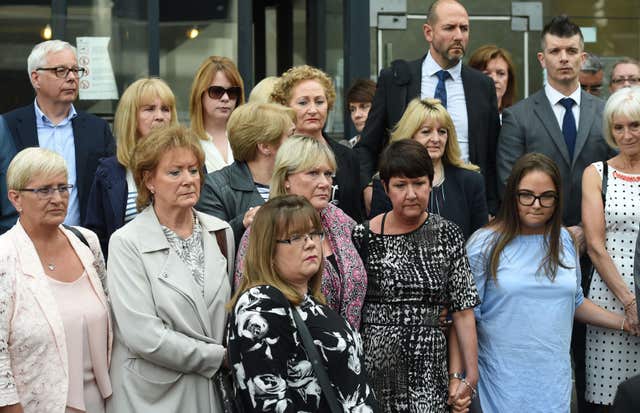 "The multi-disciplinary team are considering a selection of those so as to inform me as to whether it would proportionate to review all those cases."
Judge Foster, who was nominated by the Lord Chief Justice to oversee the inquests, also said that in some cases a patient's death certificate could not be traced, meaning their cause of death was unknown, and so the judge urged any next of kin of Paterson's former patients to come forward.
The coroner stated in April that further investigations into other cases will likely conclude in early 2024.
Paterson, who attended the hearing remotely from prison, was found guilty of 17 counts of wounding with intent and three of unlawful wounding, with his 15-year sentence increased to 20 years in 2018 by the Court of Appeal.
His 2017 Nottingham Crown Court trial heard how he carried out unapproved "cleavage-sparing" mastectomies on patients which left behind breast tissue, risking a return of cancer.
An independent inquiry found he carried out unnecessary operations in multiple hospitals on hundreds of patients, exaggerating or inventing cancer risks and claiming payments for more expensive procedures, and concerns were not acted on despite being raised by staff as early as 2003.
The inquiry report concluded that Paterson had been free to perform harmful surgery in NHS and private hospitals for years due to "a culture of avoidance and denial" in a "dysfunctional" healthcare system where there was "wilful blindness" to his behaviour.
It made 15 recommendations to protect patients, one of which was that Paterson's more than 11,000 patients should be recalled to check if they were a victim, but 1,500 Spire patients were only contacted as recently as February after a trawl of the body's legacy IT systems.
In January 2020, West Midlands Police asked Birmingham and Solihull senior coroner Louise Hunt to look at a "random selection" of 23 former patients of Paterson, to decide whether any died of unnatural causes due to "potentially substandard treatment".
Since July 2020, the inquests of 27 of Paterson's former patients have been opened and adjourned in three groups.
The inquest will assess whether Paterson's actions or wider systemic failures contributed to the deaths, and will review documents relating to Paterson's training and monitoring, the handling of complaints about him from patients, staff and medical bodies, and the process of how his former patients were recalled to have their cases reviewed by the NHS and Spire.
Judge Foster said: "Systemic failings will form part of my investigations.
"My duty is to ensure that the relevant facts are fully, fairly and fearlessly investigated. It is also likely that I will be considering a report to prevent further deaths."
Addressing the families of those who died, many of whom attended the hearing, he added: "Although much of today's proceedings will focus upon the wider systemic issues, I want to reassure you that throughout you will always remain at the heart of my investigations, and I will leave no stone unturned in that endeavour."
A compensation fund, managed by Thompsons Solicitors and law firm Slater and Gordon, was set up in July 2021 for patients treated by Paterson in Spire Healthcare hospitals.
Linda Millband, head of group action claims at Thompsons Solicitors, which has previously secured compensation for hundreds of Paterson's former victims, said: "The Paterson scandal is far from over.
"We've been representing hundreds of women who allege they were grossly mistreated at his hands for years, and this is just another milestone in an appallingly tragic tale.
"It is essential that the Paterson inquest thoroughly investigates the underlying systemic challenges to effectively tackle the concerning notion of surgeons operating with impunity in both the private and public healthcare sectors."
In September 2017, more than 750 patients treated by Paterson received compensation pay-outs from a separate £37 million fund, but NHS figures revealed at the inquest opening in July 2020 showed that of Paterson's 1,206 mastectomy patients, 675 had died by 2017.
Judge Foster said a jury would not be needed at the inquests and suggested another pre-inquest review hearing could be scheduled for later this year.
The inquest is expected to begin formally in the autumn of 2024.