A lifelong West Ham United fan who has been waiting 43 years to see his team play in a European final has said he might miss his flight home if they win the Europa Conference League.
Thousands of football fans have travelled to Prague for the final between the Hammers and Fiorentina on Wednesday.
The final is West Ham's first in Europe since 1976, and they are bidding to win their first trophy since the FA Cup 43 years ago.
Greg Robson, 59, from Manor Park, east London, told the PA news agency he has been a season ticket holder for 43 years.
"This is about my 43rd year now going home and away, following them abroad. I just love West Ham United."
He said it felt "unbelievable" to be in a European final.
"I was just one when we first won it, 11 in '76," he said. "So really, for me, this is the first time to actually go to one."
He said he booked his flight to Prague before West Ham had even made the knockout stages.
"We actually booked the flights when we were in the group stages," he said. "So it's a gamble that paid off."
"Just party, party all night," he said. "I've got an early flight in the morning, but I might be missing that."
Andrew Hall, 54, from Surrey, said: "If we're celebrating I could be here for another week."
He added that he had spent "probably £1,000" on his trip to Prague, adding: "But it's worth every penny."
Steve Wick, 60, from Hertfordshire, said he had travelled for hours to make it to the Czech capital.
"We drove 13 hours," he said.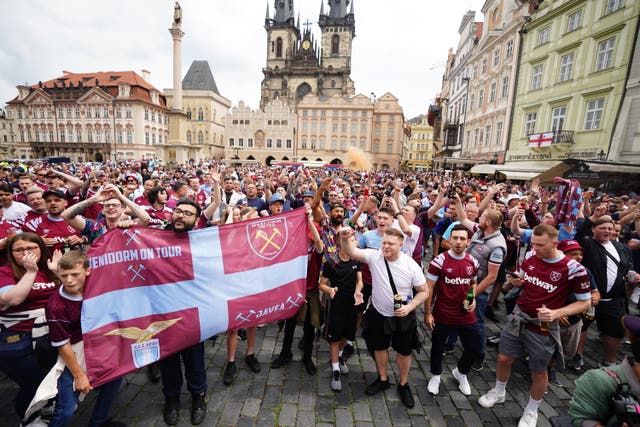 He said it had been "years and years" since the team had had any major success.
"If we win this tonight it will be mega for the fans," he added.
"It has been years and years since we've had any glory. And I think this is going to be it."
Dan Lee from Romford said he had spent more than £1,000 on his trip to the final.
"All in, over £1,000, but it's what you do for West Ham," he said.
He added that being in a European final meant "everything" to him.
"Never did you think that little old West Ham would get this far," he said.