British Second World War veterans have paid tribute to their fallen comrades as they marked the 79th anniversary of D-Day at a service in France.
Former servicemen attended the Royal British Legion-organised event at the British Normandy Memorial outside Ver-sur-Mer on Tuesday to share their experiences of the biggest seaborne invasion in military history, which led to the liberation of western Europe from Nazi occupation.
Defence Secretary Ben Wallace is expected to attend the international ceremony of Allied nations and Germany later on Tuesday afternoon at the British Normandy Memorial as D-Day commemorations continue.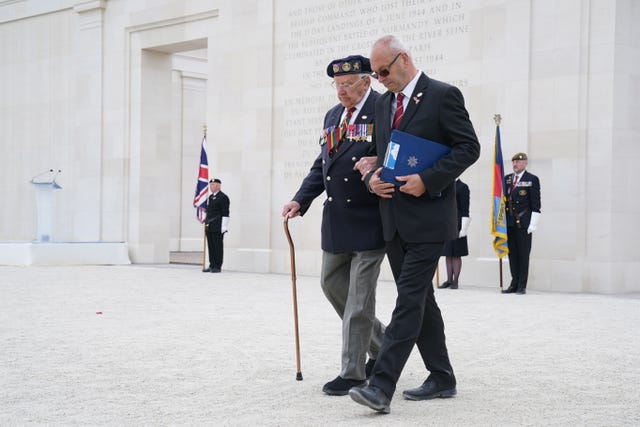 Mr Hay, from London, who was just 18 during the invasion and was later a prisoner of war and forced to work in coal mines in Poland, said: "I didn't regard myself as a poet.
"People say thank you for that. Veterans come up to me and say 'you put into words what we were feeling'."
His poem contains the lines: "With memories I come each year, and often shed a tear,
"To understand that I came home, to live another year.
"I still can see, each passing day, the friends I left behind,
"The price they paid, I nearly paid, is clearly brought to mind."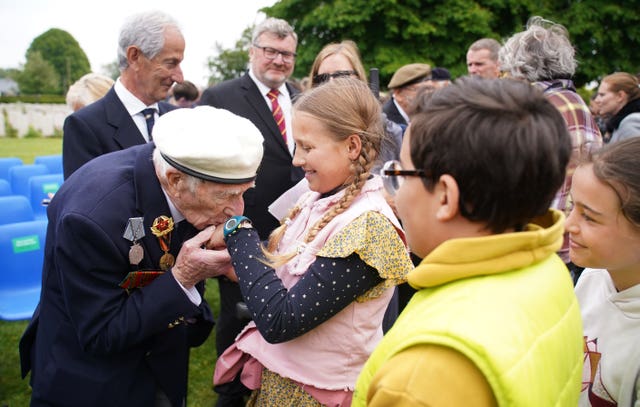 George Barrett, who joined the 9th Airborne regiment of the Royal Engineers in 1947, said he was glad children were attending the services "to keep this remembrance commemoration going for years".
The 95-year-old said he has "lost count" of the number times he travelled to Normandy for D-day anniversaries, and this year he was among a party of 10 from Birmingham.
Chairman of the 1944 Alliance, Alan James, who organises the travel for veterans from Birmingham each year, said of the dwindling numbers: "It's completely changed now. When I first started it was 24 veterans on the bus, now we're down to two – we lost 13 veterans to Covid".
At the Bayeux service, D-Day veteran Stan Ford shared his account aboard HMS Fratton, which was torpedoed on August 18 1944, causing a huge explosion that damaged his legs and back.
"I was lucky when so many of my shipmates were not, and I often ask myself 'why me'?
"HMS Fratton still lies about a mile off of Arromanches and I will always remember the crew that I served with, and I will keep coming back to Normandy as long as I can do so."
A small number of people headed to the Normandy beaches at sunrise to pay tribute to the servicemen and women who began their assault at first light on June 6, 1944.