The life of one of Britain's last D-Day veterans was celebrated at his funeral, following his death aged 100.
Joe Cattini, who died on April 18, was just 21 years old when he drove a truck loaded with petrol and ammunition off a ship in one of the first waves of the Normandy landings on June 6 1944.
His daughter Fran Bradshaw, 71, said: "He told the story of coming off the ship with his truck loaded with petrol and ammunition and being quite scared in case he got a direct hit which would have meant he would be blown sky-high."
Mr Cattini, who landed on Gold Beach on D-Day as a bombardier in the 86th Field Regiment of the Hertfordshire Yeomanry, spent his final months at a care home in Stowmarket, Suffolk.
His funeral was held on Friday at St Edmund's Catholic Church in Bury St Edmunds, Suffolk, where his first wife Mary Cattini's funeral took place following her death in 1998, aged 73.
His funeral was attended by several generations of his family, members of the Royal Regiment Artillery and representatives from veterans groups.
His coffin, draped in a Royal Artillery Regiment standard, was carried past standard bearers to the top of the steps at the front of the church, followed by his children.
Members of his family then took over to carry the coffin inside the church for the service.
The arrival music was I'll Walk With God by the tenor Mario Lanza, and prayers were read by Mr Cattini's great-grandchildren.
The departure music, after the Last Post was played, was Highland Cathedral by piper Tosh MacDonald, as the coffin was carried out to the hearse. The order of service requested that any donations be made to the Normandy Memorial Trust.
His daughter Mrs Bradshaw, of Lavenham, Suffolk, said Mr Cattini did not speak much about what he experienced on D-Day until after the 70th anniversary.
"I think it was the fact of meeting other veterans that prompted him, and all the daughters and sons of the veterans all said it was their mechanism to get through it basically," she said.
"They just parcelled it up, put it away, and once they started talking it was incredible, the tears came and we heard such amazing stories.
"It was a real privilege to be part of that."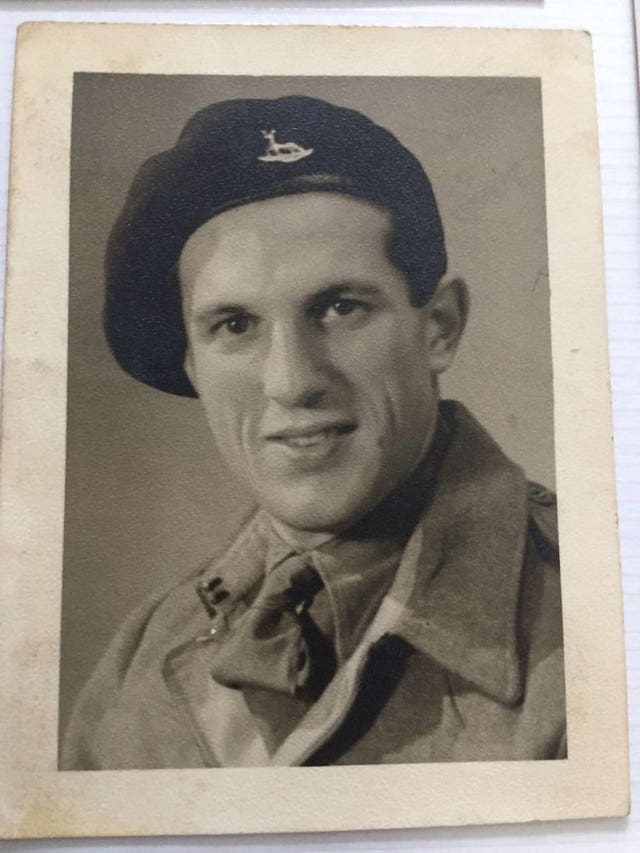 "He was perhaps one of the most positive men you've ever met," said Mrs Bradshaw.
"My sister and I would often say to him 'how come you can wake up every morning like that?' and his answer to that was having survived the war he wanted to make every day count.
"The fact he was here for 100 years was fantastic but I think it was down to his positivity."
She said that the "two great loves in his life" were "the church and his family".
In the last 10 years of his life he joined veterans groups, went to memorial events and he "just transformed", Mrs Bradshaw said.
"He was respected and he was honoured in a way that he hadn't been before," she said.
"I think it floored my dad when he first started going.
"He was shocked by people in Normandy clapping when they went down the road.
"It was amazing."
He moved to Suffolk in his final months, and "loved" Bury St Edmunds which is "full of restaurants".
"His joy, being Italian, his absolute joy was having lunches out with a glass of red wine," said Mrs Bradshaw.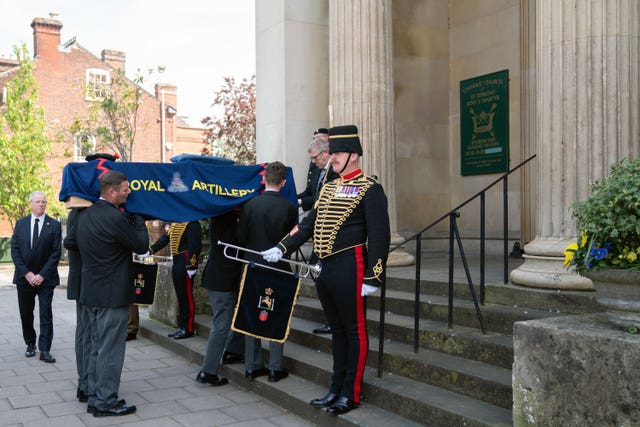 She said her father, who grew up in Hampstead, north-west London, "had an incredible life" and "would have been incredibly humbled" by tributes to him.
"Dad always said they weren't the heroes, they were the lucky ones that survived," she said.
"The heroes were the ones whose names appeared on the Normandy memorial, the ones that lost their lives.
"I think while he was thrilled with the attention he got in the last 10 years he was also humbled by the fact he felt he was so privileged to still be here."