Jeremy Hunt insisted the Government was taking a "pragmatic" approach to migrant labour and a responsible stance on taxes and the public finances, as he faced Tory pressure to chance course.
The Chancellor and Prime Minister Rishi Sunak have faced calls from the Tory right to slash taxes and dramatically cut the number of migrants coming to the UK.
Mr Hunt's comments to the British Chambers of Commerce followed days of criticism from senior Tories about the Government's approach in the wake of a bruising set of local elections in England.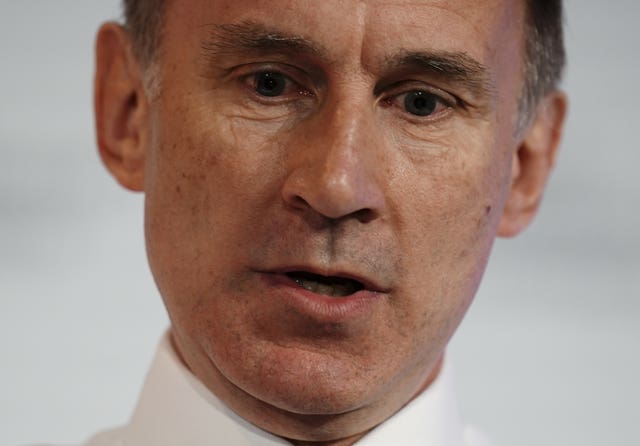 Mr Hunt said the Brexit vote, in which immigration was a major factor, was a decision to "change our economic model towards being a high skill and a high wage economy" and to move away from "unlimited, low-skilled migrants".
But he said that as well as labour market reforms to get the jobless back into work, migrants would still need to play a part.
"What I'm trying to do is to make sure that our businesses can find the labour that they need in order to make sure that recruitment isn't a problem," he said.
That meant "we will, at the margins, always be pragmatic" about areas where there are labour shortages.
But he said that if the UK had an employment rate in line with the Netherlands, there would be 2.7 million more people in work.
"So what we need to do is to tap into the incredible potential that we have at home, at the same time as we make that journey to be sensible and pragmatic about the immigration requirements," he said.
Mr Hunt insisted the Government was "completely united" on the approach.
On the tax burden, Mr Hunt said he agreed with people who had concerns, but stressed the "overwhelming priority" to control inflation.
He warned that a failure to get the public finances under control would lead to punishment from the markets, pushing interest rates up on government borrowing.
"We have to get our taxes down, particularly our business taxes. But the worst tax of all is inflation, because inflation is a tax which you get nothing back for in return."
Mr Hunt said he was not in a position to know whether there was any headroom for tax cuts in the run-up to the general election, but said his priority would be on "competitive business taxes", saying he wanted the tax break for investment to be made permanent.