Donald Trump said it is "great to be home" as he arrived in Scotland.
The former US president said on Truth Social – the social media platform he owns – that he is going to the Menie Estate near Aberdeen to open a "spectacular" second golf course.
He and his son Eric arrived at Aberdeen Airport at about 11.30am and were met by two pipers, a red carpet and a 10-vehicle motorcade.
Before getting into one of the cars, Mr Trump said: "It's great to be home, this was the home of my mother."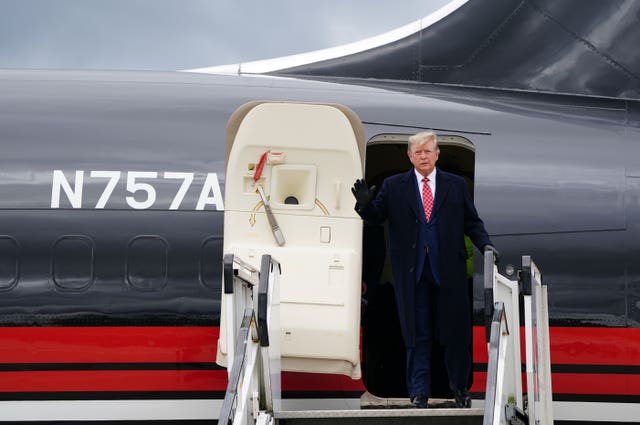 Following his time in Scotland, he will head to his golf course in Doonbeg on Ireland's west coast.
Despite the visit, Mr Trump, who is running for the White House again in 2024 and is seen by many as the presumptive Republican nominee, said his campaign is "on my mind", stressing that a victory for him would make America "greater than ever before".
"Will be leaving for Scotland & Ireland soon in order to see and inspect my great properties there," he wrote.
"The golf courses and hotels are among the greatest in the world – Turnberry and Aberdeen, in Scotland, and Doonbeg, in Ireland.
"Will be meeting with many wonderful friends, and cutting a ribbon for a new and spectacular second course in Aberdeen.
"Very exciting despite the fact that it is 'make America great again' that is on my mind, in fact, America will be greater than ever before."
The tycoon's trip to Scotland comes as he faces legal trouble in his native New York over his business practices.
Mr Trump had previously spent two days at his Turnberry course while in office in 2018, meeting Theresa May and the Queen during the visit.
Asked last week if he will meet Mr Trump, who has made controversial statements about Muslims in the past, First Minister Humza Yousaf said: "I would find it difficult, I have to say, to meet with him without raising the significance of concerns I have of the remarks that he's made in the past."
Scottish Liberal Democrat justice spokesman Liam McArthur said: "Donald Trump's previous visits have cost us millions in policing costs. They were the most expensive rounds of golf in history.
"The Scottish Government have refused to probe the finances involved in Donald Trump's purchase of the Turnberry golf course.
"The new First Minister should consider whether to revisit that decision."
When he was justice secretary in 2021 Mr Yousaf rejected Scottish Green Party calls for ministers to push for the Trump Organisation's golf courses in Scotland to be investigated via an unexplained wealth order (UWO), telling MSPs in a statement at Holyrood it would not be "right or proper".
Mr Trump's son Eric criticised Green co-leader Patrick Harvie for bringing the issue of a so-called McMafia order to debate at the Scottish Parliament, saying at the time Mr Harvie was a "national embarrassment".
Mr Harvie told Holyrood there were "longstanding" reasons for concerns over Mr Trump's financial conduct.