Nurses have worked "tirelessly" with NHS England to make sure their strike is safe for patients, the general secretary of the Royal College of Nursing (RCN) said.
The RCN will hold industrial action from 8pm on Sunday until 11.59pm on Monday after voting to reject the latest Government offer.
The union initially said it would not agree to derogations – broad areas of care where staffing is guaranteed despite industrial action – but granted some exemptions on Friday in an apparent U-turn.
The hospital said it was "incredibly grateful" to RCN members for offering assurances but took the decision not to stand down a "business continuity incident" it had previously declared until it was confident it could staff its services over the strike.
Health Secretary Steve Barclay has said the 28-hour nursing strike is "premature" and "disrespectful" to other unions.
The comments come ahead of a meeting of the NHS Staff Council, made up of health unions, employers and Government representatives, which will discuss the Government's 5% pay offer.
"I think this strike is premature and is disrespectful to those trade unions that will be meeting on Tuesday," he told broadcasters.
But RCN general secretary Pat Cullen said there are national exemptions in place for "those really acute urgent services".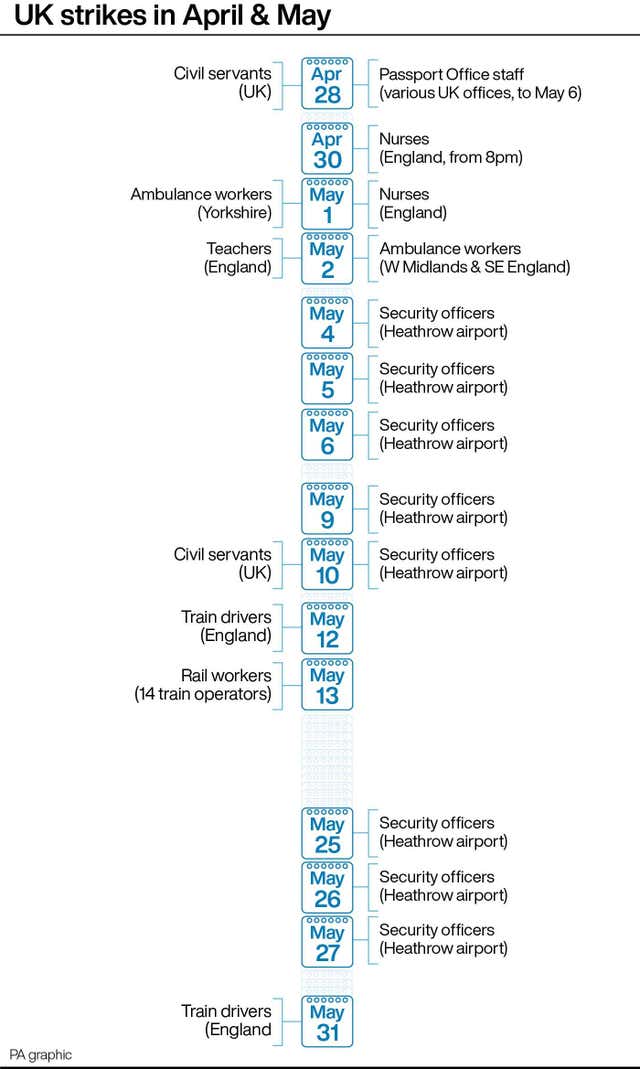 "We have put national exemptions in place, we've worked tirelessly with NHS England.
"In fact, it was the Royal College of Nursing who contacted NHS England to ask for a process to be put in place so that we make sure that the strike was safe for our patients."
She said the strike was going ahead because staffing shortages are putting patients' lives at risk.
"They're going on strike because patients' lives are being put at risk every single day," Ms Cullen said.
"And why? Because we have tens of thousands of vacant nursing posts."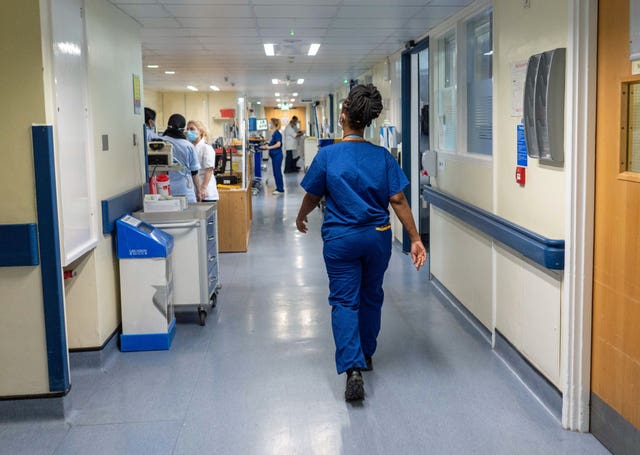 Mr Harper said: "I would urge them to think again and to do what the other trade unions in the health service have done, which is to accept what I think is a fair and reasonable pay offer, reflecting the value that we do place on hardworking NHS staff."
Urging the public to use NHS services wisely, NHS England asked those who need non-urgent care to go to pharmacies or dial 111 as their first port of call.
Dame Ruth May, chief nursing officer for England, said: "We are grateful to the RCN for agreeing a process of safety critical mitigations and we continue to support all nurses, those who work and those who take industrial action.
"These mitigations do not represent a return to standard staffing. The industrial action will still have a very significant impact on services during the strike period and patients can expect to see longer waits for care.
"The public should use the NHS wisely, with those needing non-urgent care using pharmacies and 111 online as their first port of call. And if you have a life-threatening emergency, please seek help in the usual way by dialling 999."
Mr Barclay, writing for Mail Plus, said he echoed NHS leaders fears about the impact on patient safety.
"There will be disruption. The NHS will be doing everything possible to mitigate this and will prioritise resources to protect emergency treatment, critical care, neonatal care, and trauma," he wrote.
Nurses make up a quarter of NHS staff and are the biggest proportion of the health service workforce.
NHS England warned that staffing levels for some areas of the country will be "exceptionally low, lower than on previous strike days".
A High Court judge ruled on Thursday it would be unlawful for the RCN strike to continue into Tuesday as originally planned, meaning it will now end just before midnight on Monday.
The British Medical Association, the trade union for doctors, encouraged doctors to support the nurses' strike.
Professor Philip Banfield, BMA council chair, said: "As doctors, we see the tireless work and dedication of nurses first-hand day in, day out. They give their all while grappling with an understaffed and under-resourced health service.
"Fair pay should be a bare minimum. That's why we continue to support their campaign and nursing colleagues who have rejected the Government's paltry sub-inflationary pay offer.
"Our members know first-hand that the decision to strike and taking industrial action isn't easy, with junior doctors in England themselves taking to picket lines twice in the last two months.
"We stand in complete solidarity with nurses, who have supported us in our pay campaign. Doctors' support for nurses will help bolster the case for fair pay for all healthcare workers."