A mother and father who both work for the NHS missed the last UK evacuation flight out of Sudan on Saturday, believing the journey to be "too dangerous".
They must now find an alternative means of fleeing the war-torn country.
The last chance for British nationals to reach the Wadi Saeedna airfield was Saturday at 11am UK time, with the final evacuation flight scheduled to take off on Saturday evening.
Sarra Eljak, 38, her husband Mustafa Abbas, 44, and their four children are sheltering in the city of Wad Madani, more than 220km south east of the evacuation air strip.
Despite the dangers of being left behind, they said it was too risky to make the journey to the evacuation site with their children Danya, 12, Menna, 11, Anne, seven, and Mohammed, six months.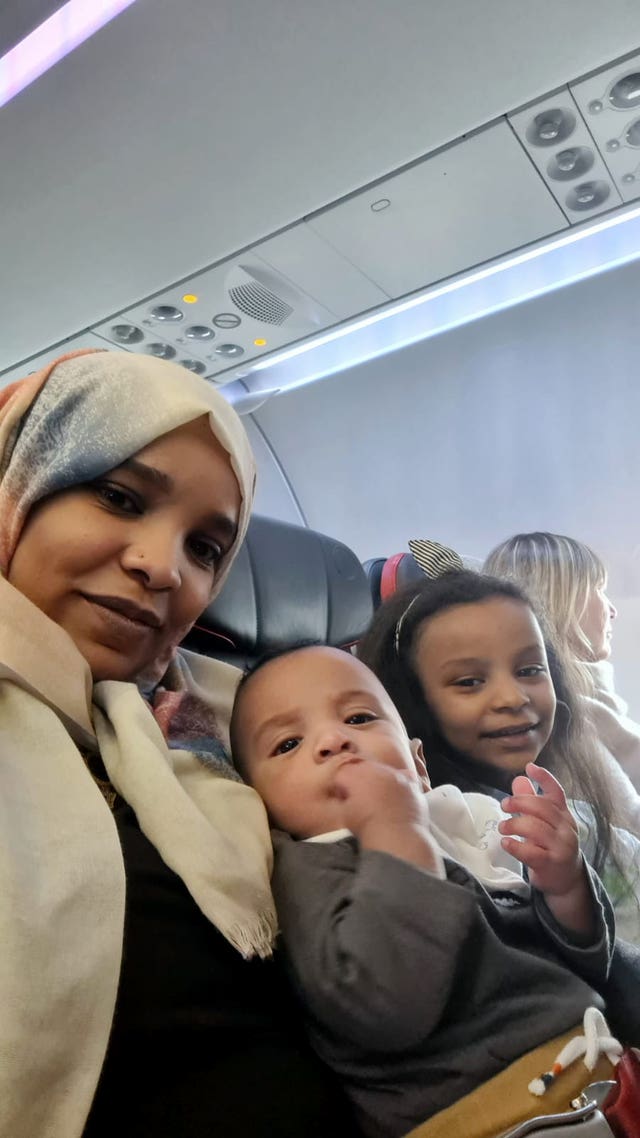 "I can't take this risk with my children. They should consider people with families.
"I don't want to put my kids' life in danger.
"I feel like we have been left without support."
Instead, the family faces a treacherous 800km journey to Port Sudan. From there, they plan to cross the Red Sea to Saudi Arabia by ship before flying back to the UK from Jedda.
She said: "It is a very long journey for someone who has a six-month-old baby and three other kids."
Ms Eljak, from Slough, is a British citizen and works as a trainee GP at Spire Thames Valley Hospital. Her husband holds an Irish passport and works as an emergency medicine consultant at Milton Keynes University Hospital.
The family flew out to Sudan on April 3 to spend the end of Ramadan with Ms Eljak's extended family in central Khartoum.
They planned to fly back on April 24 but when fighting broke out on April 15, they were left stranded.
Ms Eljak said: "All of a sudden, we just woke up hearing shooting guns and military helicopters everywhere.
"For the five days we sat on the floor the whole day and couldn't manage to sleep more than a few minutes.
"Our front door was shot at and we found the bullets inside the house.
"At any point you have the sense that you are going to lose one of your family members."
The family decided to flee when they found out soldiers were using the house next door to Ms Eljak's family home as an arms depot for storing weapons and explosives.
She said: "We thought If this house is shot, the fire will be everywhere."
They left behind their car, clothes and most of their possessions and hired a coach to travel 200km to Wad Madani on April 20.
Despite their relative safety from the conflict for the time being, Ms Elkaj knows she and her family must find a way out soon.
She said: "I came with my six-month-old baby who was born premature. He takes a certain type of formula milk and now I run out of this.
"This place where I'm staying right now, there is a pandemic of malaria.
"It's too much pressure."
Ms Eljak is worried about the impact their ordeal has had on her children.
She said: "If they hear the bang of a closing door, they scream.
"They all went through different panic attacks. My oldest girl, Danya, refused to eat and drink for four days.
"Every one of my kids are saying if they arrive in the UK safely, they will never come back to Sudan. This makes a tear in my heart."
Asked if there are moments when she has been close to giving up, she said: "It happens for a few seconds but then I straight away stand up and say I have four kids to look after. If I give up, what is going to happen to them?
"I have to stay strong because if they see any weakness, they will collapse, and I can't let that happen to my kids."
Mr Abbas said: "As a father, it's really difficult.
"Every minute of every day they ask you when we are going to leave, they say 'we are homesick, we miss our friends', and it's difficult to give them any answers."
"The big countries are just leaving the military and militia to fight and kill innocent people. At the end of the day, we are all human and we should look after each other."