A union representing school leaders will re-ballot its members on strike action.
The National Association of Head Teachers (NAHT) will hold a formal postal ballot of its members in England over pay, funding, workload and wellbeing.
It comes after NAHT members overwhelmingly rejected the recent pay offer from the Government amid concerns that the deal was "unaffordable".
Overall, 64% of NAHT members in England responded to the union's online consultative ballot, with 90% voting to reject the offer and 78% saying they would be prepared to vote for industrial action.
The Government offered teachers a £1,000 one-off payment for the current school year (2022/23) and an average 4.5% pay rise for staff next year following intensive talks with the education unions.
Schools in England could face further walkouts in the autumn as the NEU will re-ballot its teacher members on further industrial action later this year.
Teachers in England represented by the NASUWT union will also be re-balloted on strike action, and the ASCL is due to hold a formal ballot for national strike action in England for the first time in its history.
On Friday, delegates at the NAHT's conference in Telford are due to endorse the decision by the union's executive committee to re-ballot for strike action.
In January, a formal ballot of NAHT members failed to meet the mandatory 50% turnout threshold required for strike action.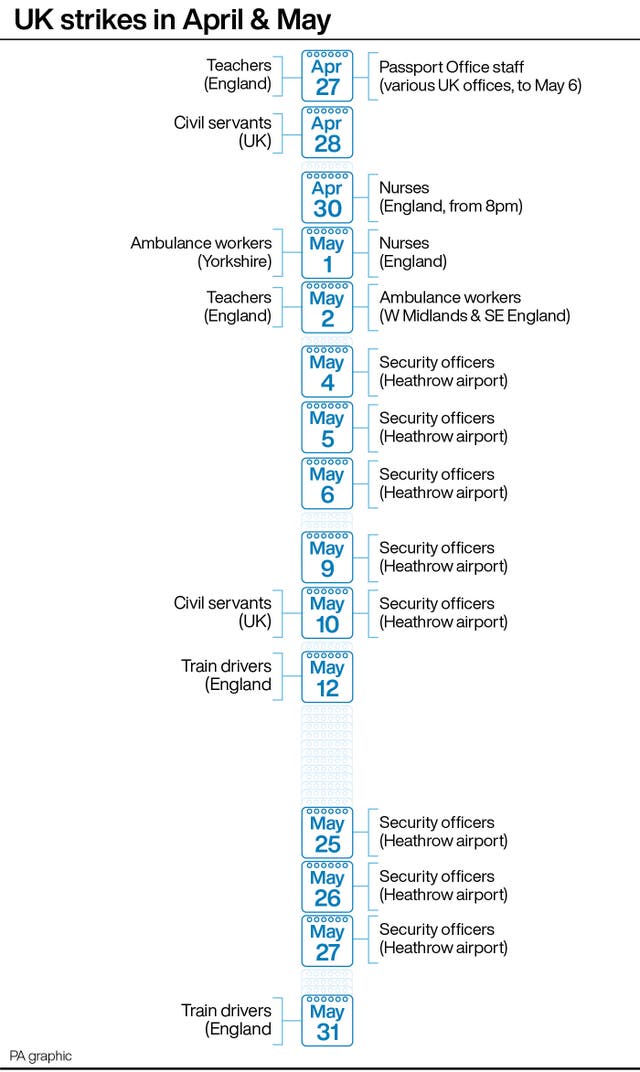 "I took part in the recent intensive negotiations with the Education Secretary in good faith, and we took the best offer the Government could make us to our members. Their response could not be more clear: it is just not good enough.
"School leaders have suffered over a decade of pay erosion and are feeling the pinch of the cost-of-living crisis just like everyone else. But they still voted against a pay rise, knowing the damage it would do to their schools, pupils and staff.
"A pay offer from Government without the funding to back it is an utterly empty promise. It simply leads to redundancies and reduced support for children.
"The Government knows what it needs to bring to the table to continue negotiations. And our ballot announcement today sends a strong message that we will not go away. This dispute will continue – the Government needs to recognise that and engage."
The general secretaries of the four main unions representing teachers and school leaders are due to speak together at a press conference on Friday in Telford to announce possible coordination of industrial action going forward.
The NEU is staging five days of teacher walkouts during the summer term – with three of the dates yet to be announced.
Speaking ahead of the teacher strikes this week, Kevin Courtney, joint general secretary of the NEU, told the PA news agency: "If there was any chance of other unions balloting for action in this term then we want to coordinate that."
He added: "The NEU action has had a very big impact, but more unions organising the same group of workers, also taking action on the same day, would increase that impact."
Mr Courtney added: "If I was Government, the prospect of ASCL and ourselves balloting, and maybe other unions as well, and the prospect that we could take action together in the run-up to their general election, if I was Government I would think we'd better do something to sort this out sooner rather than later."
The decision on teachers' pay in England for next year has been passed to the independent pay review body, the School Teachers' Review Body.
A Department for Education spokesperson said: "We have made a fair and reasonable teacher pay offer to the unions, which recognises teachers' hard work and commitment.
"Next year, school funding will be at its highest level in history, in real terms per pupil, as measured by the independent Institute for Fiscal Studies.
"We know schools are facing increased costs like energy and staffing, and are providing an extra £2 billion in each of the next two years to cover those costs. As a result, school funding is set to rise faster than forecast inflation in both 2023/24 and 2024/25."