Humza Yousaf has said there should be no bonuses paid in this financial year to bosses at Ferguson Marine as it emerged payouts are set to be made for last year.
Auditor General Stephen Boyle detailed "unacceptable" bonus payments totalling £87,000 were made to six senior members of staff in 2021-22 with the knowledge of Scottish ministers and despite the spiralling costs and delays in the delivery of two lifeline ferries.
On Thursday, Deputy First Minister Shona Robison wrote in a letter to Holyrood's Net Zero, Energy and Transport Committee that further payments have been made so far this year for performance in 2022-23 with more to come in June.
A spokeswoman for Ferguson Marine confirmed the bonuses were shared between eight people, not including the CEO, and were "assessed robustly" against performance and details were shared with the Scottish Government.
A payment of £23,609 was made last week, with a further instalment due to be made in June, but the Scottish Government is looking at potential alternatives to bonuses alongside the yard's chair.
"The first of two instalments of £23,609 each has already been processed.
"This first payment was made in FMPG's April 2023 payroll with the second payment of £23,609 due in June, subject to ongoing discussions involving the chair.
"I know that the committee will share my disappointment, particularly at a time when the delivery of vessels MV Glen Sannox 801 and Hull 802 remain long overdue; that despite every effort being made to ensure that no bonuses were paid in 2022/23, the payment of bonuses for 2022/23 is contractually unavoidable."
Almost simultaneously, First Minster Humza Yousaf was being challenged about the payments in Holyrood.
Scottish Tory leader Douglas Ross said: "The two ferries are not fit to sail, the costs continue to spiral out of control, and islanders continue to be left without vital, lifeline services – so First Minister, what on earth could these bonuses be for?"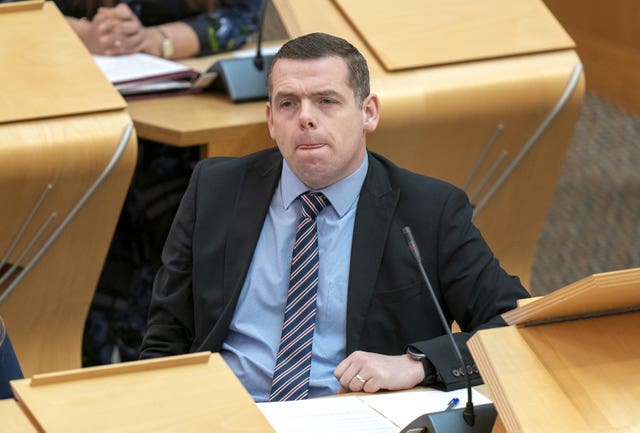 "The bonuses that have been paid relate to a decision made by the remuneration committee of Ferguson Marine without consultation with the government in November 2022.
"Those bonuses, I have asked if they can not be paid and the advice coming back is that they are a contractual obligation.
"For any future discussion or consideration of bonuses, I have made it clear there should not be bonuses paid in relation to vessels 801 and 802."
The First Minister went on to say it was "his expectation" that bonuses should not be paid for the 2023-24 financial year.
The spokeswoman for the yard said: "Each bonus payment was assessed robustly by our remuneration committee against KPIs and details shared with Scottish Government."
The statement comes just hours after the Auditor General told Holyrood's Public Audit Committee he was unsure if the money could be recovered.
Asked by SNP MSP Willie Coffey if the money could be recovered, Mr Boyle said: "I don't know if those amounts are recoverable.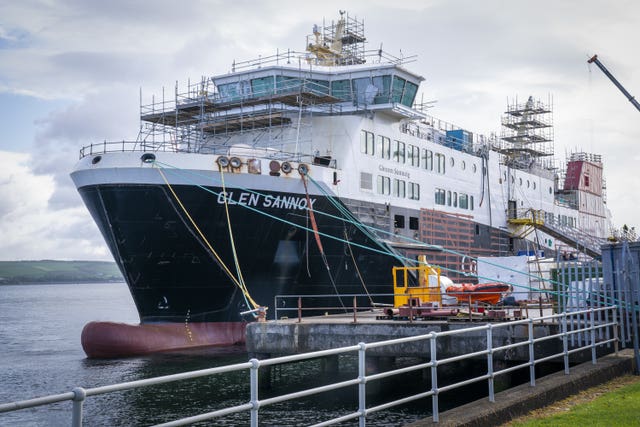 Mr Hair was installed at the yard to reverse its fortunes, a task at which he ultimately failed, but pocketed a total of £1.8 million in wages and expenses during his less than three year tenure at the business.
The company's remuneration committee ultimately approved the decision to award the bonuses based on the 2021-22 year.
Mr Yousaf was also questioned on the ultimate cost of the Glen Sannox and as-yet-unnamed hull 802, which are set to be delayed by five and six years respectively if they meet deadlines for completion of the end of this year and the end of 2024.
Mr Yousaf ultimately could not say how much the vessels would cost, under questioning from the Scottish Tory leader, after the Auditor General said it was "folly" to view an estimate of £300 million as "reliable".
The First Minister said it was "unacceptable" there had been cost overruns and delays and apologised to islanders for the disruption caused by the issues in building the ferries.
The First Minister added that the Scottish Government is currently reviewing cost projections.
Public Audit Committee convener Richard Leonard said on Thursday representatives of both the Scottish Government and Ferguson Marine had been invited to give evidence to the committee.
Former deputy first minister John Swinney told the PA news agency that "every effort" was made to ensure the bonuses for the 2022-23 year were not paid, but intimated he knew they were a possibility.
He said: "At the time of my statement to Parliament, no subsequent bonuses had been paid for 2022/2023 and every effort was being made at my request to ensure that none would be paid.
"Unfortunately, this process concluded that the payment of bonuses was legally unavoidable."