James Cleverly has said that failing to engage with China would be a "sign of weakness" in a speech setting out the Government's position on Beijing.
The Foreign Secretary said the UK must engage directly with the country in order to promote stability in a keynote address to the Lord Mayor's Easter Banquet in London on Tuesday.
But he also said the UK must be "unflinchingly realistic" about Beijing's authoritarianism, as he warned it against invading Taiwan.
He broke from tradition by dedicating the speech – which foreign secretaries typically use to set out their views on a broad range of foreign policy issues – entirely to talk of Beijing.
He said: "This Government will advance British interests directly with China, alongside our allies, while steadfastly defending our national security and our values.
"We can expect profound disagreements. Dealing with China – I can assure you – is not for the fainthearted; they represent a ruthless authoritarian tradition utterly at odds with our own.
"But we have an obligation to future generations to engage because otherwise we'd be failing in our duty to sustain – and shape – the international order.
"Shirking that challenge would be a sign not of strength, but of weakness."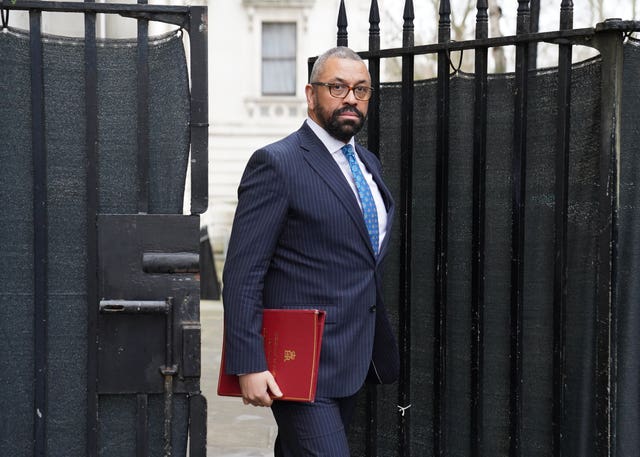 The Foreign Secretary said the UK "will always be torn between our national interest in dealing with China and our abhorrence of Beijing's abuses".
The speech condemned Chinese repression and pledged that the UK will continue to highlight the suffering of the Uyghur people, branding the mass incarceration in Xinjiang a "21st century version of the gulag archipelago".
"So our policy has to combine two currents: we must engage with China where necessary and be unflinchingly realistic about its authoritarianism," he said.
"And that means never wavering from one clear principle. We do not expect our disagreements with China to be swiftly overcome, but we do expect China to observe the laws and obligations that it has freely entered into."
Mr Cleverly also warned that if China invaded Taiwan, it would "destroy world trade worth 2.6 trillion dollars".
He said: "I shudder to contemplate the human and financial ruin that would follow. So it is essential that no party takes unilateral action to change the status quo."
He urged Beijing to be transparent about its military expansion, as it is "carrying out the biggest military build-up in peacetime history".
Mr Cleverly argued the UK's "multifaceted" approach must be three-pronged: first to strengthen national security protections whenever Beijing poses a threat; second to deepen cooperation with allies in the Indo-Pacific region to uphold international law, and third to engage directly with China.
The Foreign Secretary is understood to want to visit China after warning that the UK should not "pull the shutters down" on the country.
His comments could anger Tory backbenchers, many of whom hold a more aggressive stance on Beijing and have voiced concerns about possible appeasement.
It comes after former prime minister Liz Truss urged ministers to ensure Beijing can never join the Indo-Pacific trade bloc – concerns which were echoed by former Conservative leader Sir Iain Duncan Smith.
Ms Truss had been expected to designate China as a "threat" during her short-lived leadership, but Prime Minister Rishi Sunak has instead described the nation as a "systemic challenge".