Unionist leaders have urged Prime Minister Rishi Sunak to delay a government Bill to allow an inquest to take place into the murder of an Ulster Defence Regiment (UDR) soldier.
Corporal James Elliott, 37, was abducted and murdered by the Provisional IRA in 1972.
While Northern Ireland's Attorney General Brenda King has ordered a fresh inquest into his death, concern has been expressed that the Government's legacy Bill will prevent it taking place.
The Northern Ireland Troubles (Legacy and Reconciliation) Bill, which is progressing through Parliament, proposes immunity for people accused of crimes during the Troubles – as long as they co-operate with a new truth recovery body – and will stop future court processes.
The Bill has been opposed by victims group, most of the political parties and the Irish government.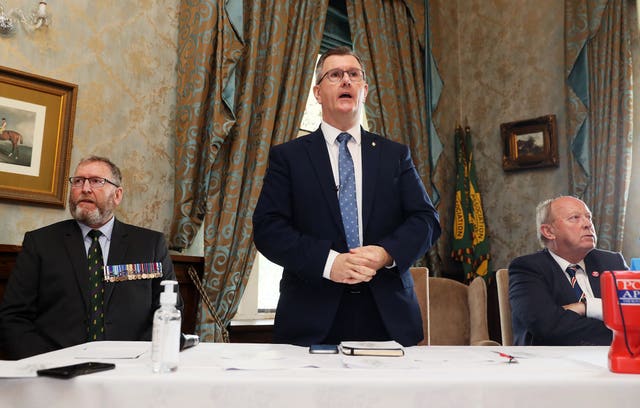 In the letter, the unionist leaders say the inquest will provide Mr Elliott's family with some closure, an acknowledgement of his service and the truth about the circumstances of his death.
They point out that no one has been convicted of his murder, and that the Government's legacy Bill could close the door on the inquest.
"If this were to happen, it would be a shocking and deeply disappointing development. It would be an intolerable denial of justice and a grave insult to the memory of a brave soldier and his loved ones.
"We would appeal to you personally, Prime Minister, and your Government, to take whatever steps are necessary to ensure that this inquest takes place, and that justice prevails – even in Northern Ireland.
"You will be aware that we oppose the Legacy Bill because it will be a legislative barrier to any future terrorist-related cases from taking place.
"We would point out that while your government has notionally brought the Legacy Bill forward to protect soldiers from inquests, this is an example of where the Bill will deny the family of a murdered soldier, who died in the service of this country, their right to an inquest.
"In the case of Corporal Elliott, you have the opportunity to show some compassion and understanding. We earnestly hope you avail of this opportunity."
Victims group the Ulster Human Rights Watch backed the letter.
Advocacy manager Axel Schmidt said: "The Elliott family firmly supports this initiative and we hope the Government listens and acts."
It is understood that Secretary of State Chris Heaton-Harris will respond to the unionist leaders' letter.
A UK Government spokesperson said: "The UK Government is determined to deliver better outcomes for those most affected by the Troubles, while helping society to look forward.
"The Northern Ireland Troubles (Legacy & Reconciliation) Bill will establish an Independent Commission for Reconciliation and Information Recovery (ICRIR) to conduct reviews into Troubles-related deaths and serious injury, with the primary objective of providing information to families, and victims and survivors.
"It will have all the necessary powers to conduct criminal investigations as part of any review and will be able to make findings in a manner similar to an inquest.
"The Government tabled a number of amendments during committee stage in the House of Lords that seek to address a number of key issues and we will continue to engage constructively with all interested parties."