The handling of formal complaints against ministers should be "taken out of the hands of politicians" following the drawn-out bullying investigation into Dominic Raab, a union chief has urged.
Rishi Sunak is continuing to deliberate over the future of Deputy Prime Minister Mr Raab after receiving a report into bullying allegations against the senior politician, which he has denied.
The Prime Minister was handed the report into Mr Raab's behaviour towards junior colleagues on Thursday morning following a five-month probe by Adam Tolley KC.
A decision on Mr Raab's future is expected on Friday at the earliest.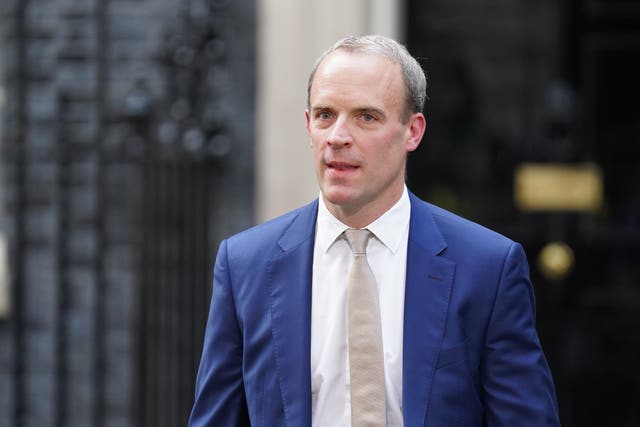 He said flagging complaints about ministerial behaviour was "an extraordinarily difficult thing to do" under the current system.
The FDA represents senior civil servants, with some of its members behind the accusations levelled at Mr Raab, who is also the Justice Secretary.
Mr Penman said allowing the Prime Minister to act as "judge and jury" in disciplinary matters against frontbench members of his team was "not a way" to deal with allegations of potential wrongdoing.
"There is no process for this, there is nothing in writing, you have no rights," Mr Penman told the PA news agency.
"You are reliant upon the Prime Minister even agreeing for there to be an investigation and the Prime Minister then needs to make a determination on it, on a political ally."
He said there "absolutely" needed to be reform, stating that a survey of the FDA's senior civil service members found 70% had no confidence in raising a complaint because of how the process had been dealt with in the past.
Mr Penman added: "The Prime Minister has to decide whether he is serious about this or not.
"This is not a way to deal with serious complaints of bullying. Or this could be about sexual harassment. It is the same process.
"You are relying on the Prime Minister entirely as judge and jury on the facts.
"Like happened in Parliament, this whole process needs to be reformed and needs to be taken out of the hands of politicians."
The investigation into Mr Raab includes eight formal complaints about his behaviour as foreign secretary, Brexit secretary and during his first stint as justice secretary.
Mr Penman was critical of the time it was taking for Mr Sunak to reach a decision on whether to remove Mr Raab from Government, calling the delay a "farce".
Downing Street had promised for the Prime Minister to reach a decision "swiftly" but it appeared unlikely to be made within 24 hours of him receiving Mr Tolley's submitted investigation.
"Imagine being a civil servant who has been brave enough to raise a complaint against the Deputy Prime Minister, sitting in a government department and you're watching this farce play out live on television, not knowing what your fate is going to be about the complaints you have raised," Mr Penman told PA.