Climate protesters who disrupt sporting events should be "ashamed of their selfish behaviour", the Prime Minister has said.
Rishi Sunak made the comments after activists disrupted the World Snooker Championship on Monday and the Grand National at the weekend.
He told The Sun: "People who disrupt decent, law-abiding people's lives, trying to gratuitously ruin great sporting events that many have worked hard and saved to enjoy should be ashamed of their selfish behaviour.
"Last year, the Government introduced new laws to crack down on this reckless behaviour but more is needed. That's why we are pressing ahead with our Public Order Bill.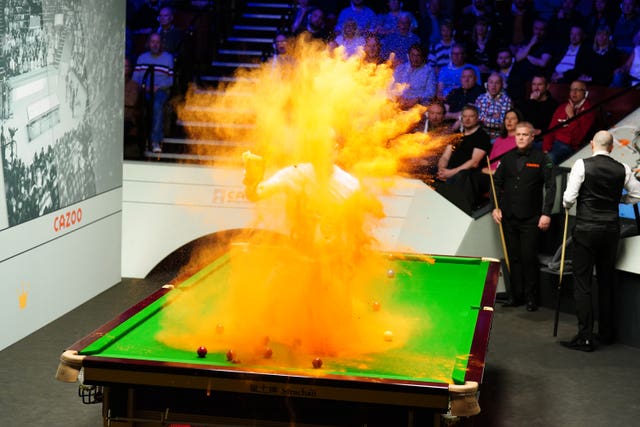 Exeter University student Eddie Whittingham, 25, and former museum worker Margaret Reid, 52, were arrested and bailed over the stunt carried out by Just Stop Oil during the snooker event at the Crucible in Sheffield.
The activist group has said disruption will continue until the Government agrees to its demands, which could affect sporting events such as Wimbledon, golf's Open Championship and the Formula One British Grand Prix
A total of 118 people were arrested at Aintree on Saturday as they tried to scale a perimeter fence at the Grand National meeting.
The Animal Rising protest group, formerly Animal Rebellion, was behind that protest.
The London Marathon may be disrupted although its organisers say the activist group has told them it does not want this to happen.
Race director Hugh Brasher told MailOnline: "We're aware of the Extinction Rebellion protest that is scheduled to take place in Parliament Square and have been in contact with them for some months.
"The Extinction Rebellion organisers have assured us that they do not wish to disrupt the TCS London Marathon.
"As Parliament Square and the immediate surrounding area will be very busy, we advise spectators to watch the London Marathon from other locations and avoid the Parliament Square area on the day.
"As always, we are working closely with the Metropolitan Police and other stakeholders on the safety and security of the event."
Conservative MPs have called for climate protesters to be jailed for longer if their demonstrations disrupt the public.