Rishi Sunak has admitted that meeting his promise to cut NHS waiting times will be "more challenging" as a result of further strikes.
The Prime Minister made the pledge as one of his five priorities at the start of the year, but the latest figures showed a record 7.22 million people were waiting to start routine hospital treatment at the end of February.
The Royal College of Nursing (RCN) is set to return to the picket line after rejecting a pay offer while the British Medical Association's junior doctors remain locked in a row with the Government over wages.
Mr Sunak claimed that he was "still hopeful" waiting lists could be driven down.
"In spring this year I said we would practically eliminate those waiting a year-and-a-half for their treatment and we were on track to do that – the industrial action obviously makes that more challenging but we are pushing hard to meet that target."
He said by next spring he aimed to eliminate one-year waits and have the overall wait list falling.
"I do remain hopeful – of course industrial action makes these things more challenging," Mr Sunak said.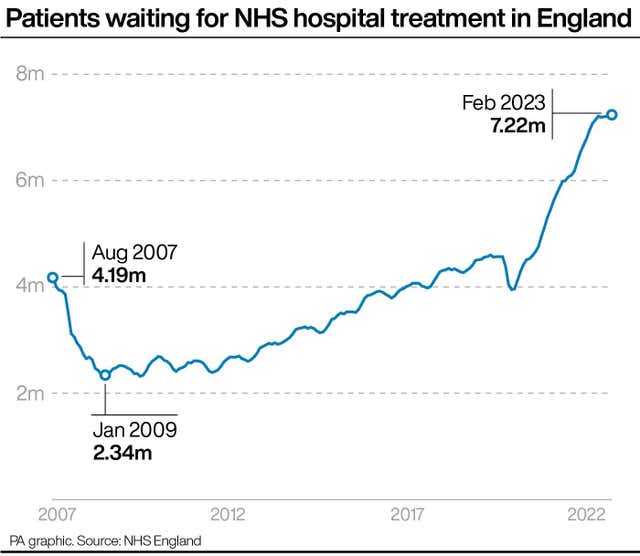 The Prime Minister said the 54%-46% vote in favour of rejecting the pay offer was "very narrow".
"Indeed, when you look at the turnout, it's a minority of members of that union who are voting to strike.
"I think voting to strike with no derogations, given the closeness of the vote, is obviously disappointing and everyone will be concerned about the impact on patient care."
He added: "Our door's always open to have talks and there are other unions who are currently in the process of balloting their members, and, hopefully, they can see that the offer that we put forward is a reasonable one that recognises their hard work and the contribution they make, and also recognises that we have to do these things in a way that's affordable for taxpayers, but also gets inflation down."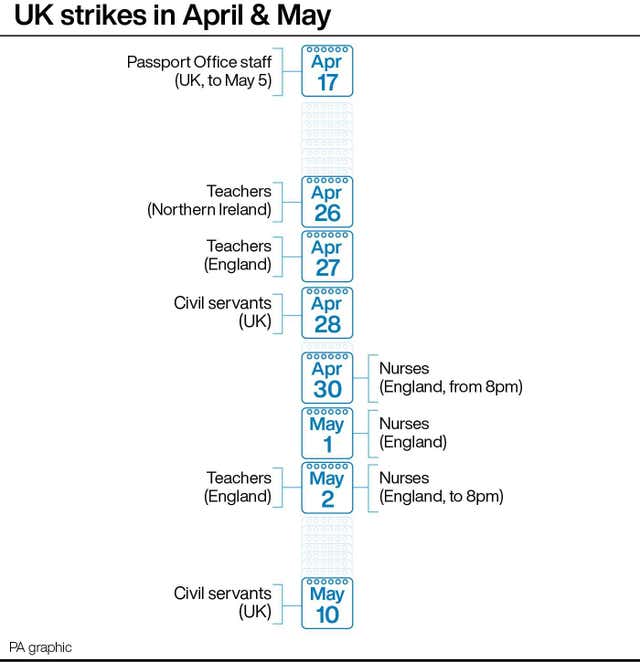 Mr Sunak said "it's right that we respect, revere and support our teachers" but added: "Obviously I'm disappointed and I don't want our kids' education to be disrupted, I think no-one wants to see that.
"Our door is always open and we continue to hope that we can find a way through.
"That's the situation on that and we are able to focus on that, but it's also right that we look to the future, it's also right that we think about our kids."