More than 40 animal rights activists have been de-arrested after a large number of protesters attempted to gain entry to the Aintree Racecourse track, delaying the start of the flagship Grand National, campaign group Animal Rising said.
Merseyside Police arrested 118 people on Saturday after scores of activists climbed fences, with at least two fixing themselves to a jump using glue and lock-on devices according to the animal rights group.
Animal Rising spokesperson Nathan McGovern said in a statement on Sunday: "We believe there were 118 arrests of Animal Rising supporters yesterday, with 68 in custody following the action.
"Five have been released thus far and 42 were de-arrested and turned out onto the street by police. No one has been charged at this time.
"Supporters of Animal Rising do not take the risk of arrest lightly, but taking action to protect animals and nature is more important than upholding business as usual.
"This is just the start of many peaceful actions to really create a national conversation about our fractured connection with animals and our natural world this summer, whether they result in arrests or not."
The protesters breached security fences as National runners were in the parade ring, causing a delay of 12 minutes, although racegoers helped police and event organisers to stop some from reaching the track.
Force Assistant Chief Constable Paul White said on Saturday that protesters tried to access the course from a number of points at the far side of the track, but were removed "swiftly".
"We put a proportionate policing plan in place and, by and large, we were able to stop the vast majority entering on to the course, a small number did get on to the course, but, very quickly, they were removed, again in partnership with the event organiser, private security and police officers and staff," he added.
Mr White said 118 people were arrested for criminal damage and public nuisance offences, including some pre-emptively held before the race, and others over a protest on the M57 where activists glued themselves to the carriageway.
"We're a nation of animal lovers, but the pain these beautiful creatures experience daily does not do that label justice. We need to find ways of loving animals that don't hurt them.
"I truly believe that we are a nation of animal lovers, every one of us. I know everyone coming to Aintree to view the races today would say they love the horses, however, the suffering experienced by them should shock us all.
"That's why I've decided to put my body between those horses and death on the racecourse, rather than gamble with their lives."
Earlier on Saturday, Merseyside Police said three people had been arrested on suspicion of conspiracy to cause a public nuisance, with a 25-year-old woman from London and a 55-year-old man from Greater Manchester arrested outside the racecourse on Saturday, and a 33-year-old woman from the London area held in the Greater Manchester area earlier in the day.
Mr McGovern said: "These actions show that the police are spending more time chasing peaceful protesters than addressing the real issues that exist, such as our broken relationship with animals and the climate emergency."
Traffic was blocked by protesters on the M57 motorway at around the same time as activists attempted to get on to the racecourse at Aintree.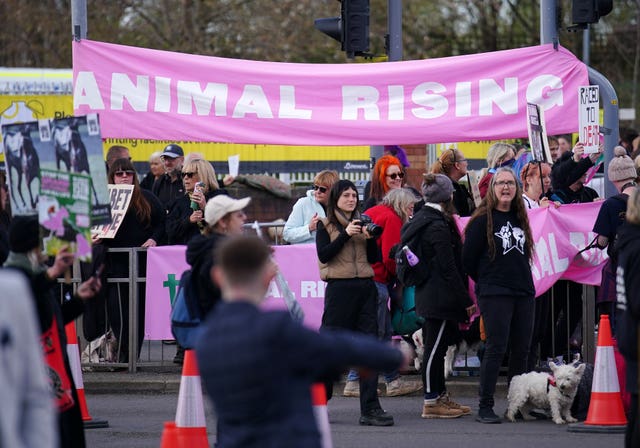 National Highways said traffic was stopped in both directions on the motorway – between junctions one and two – shortly before 5.15pm, but by 6pm the southbound carriageway was reopened and northbound traffic was being diverted via a slip road.
There were delays of more than an hour on the road, which runs from the M62 to Aintree.