Irish premier Leo Varadkar has said the strength of the UK-US relationship should never be underestimated, as he rejected claims that Joe Biden is anti-British.
It comes as a Home Office minister insisted Prime Minister Rishi Sunak's interaction with the US president in Belfast involved "extensive discussions" – while the White House characterised their talks as "broad" and "general".
The Taoiseach, speaking to reporters in Dublin following a meeting with the US president, rejected any suggestion that Mr Biden was "anti-British".
"I don't agree with that assessment, that's certainly not my experience of President Biden or his administration," he said.
"We should never underestimate the strength of the UK/American relationship, and I know that President Biden and his administration are committed to that special relationship, but he is somebody who identifies as Irish-American, who is proudly Irish, and takes an interest in Irish affairs, and his only interest really is to see not just peace sustained in Northern Ireland, but also… the institutions up and running.
"Because people and politicians come and go, it's institutions that underline and make sure that democracy and freedom and prosperity last for generations.
"I don't feel he is pushing any particular agenda other than what he thinks is best for the people of Northern Ireland and the people of Ireland as a whole."
The Taoiseach would not be drawn on an Irish role in Northern Ireland if the current impasse at Stormont continues.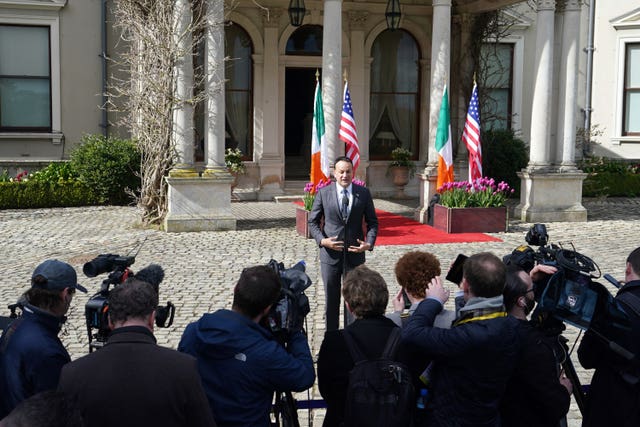 "I think it is possible to get the DUP on board and then, not only crucially have the powersharing institutions up and running in Northern Ireland, but also the North-South bodies which are very important too."
Mr Varadkar also said Northern Ireland can benefit from US investment if it establishes political stability.
"I think what's envisaged is investment by the US private sector, by American companies in Northern Ireland," he said.
"I think if there is stability in Northern Ireland, if there's predictability about the trading arrangements and the political situation there, Northern Ireland can benefit from that investment too."
Earlier, Chris Philp defended Mr Sunak's movements on Wednesday amid criticism that the bilateral meeting between the Prime Minister and the US president appeared to have been scaled back to a less formal conversation over a cup of tea.
Touring broadcast studios on Thursday, the minister was asked why Mr Sunak had missed the president's speech at the Ulster University campus after meeting him in the morning.
"I don't know exactly what the Prime Minister's schedule was," he told GB News.
"I haven't discussed it with him or No 10… Of course they did have extensive discussions in Belfast yesterday before President Biden's speech."
Later on Thursday, US National Security Council senior director for Europe Amanda Sloat said the leaders had a "broad, general" discussion during the meeting.
They discussed a "number of global challenges", she said.
Ms Sloat denied that the president was "kept away" from people in Northern Ireland, adding that it was a "briefer stop" than his visit to the Republic of Ireland.
"I can say, as one who sat in the motorcade for about an hour before we left after the speech, the president was on the rope line in Belfast for I think almost an hour, engaging with virtually everybody, it seemed, that was sitting there."
"The president really enjoyed his time in Belfast," Ms Sloat added.
Mr Biden's visit to the island of Ireland continued on Thursday in Dublin, with the president taking part in a series of engagements.
Asked whether he agreed with claims the president was anti-British, Mr Philp replied: "No I don't. I think the president, when he spoke to the King recently, agreed to come to the United Kingdom on a full state visit, which is fantastic.
"I think he's been here four times since becoming president so no, I don't think – I would not accept that characterisation at all."
Mr Philp also echoed the president's remarks on powersharing, saying political parties in Northern Ireland should "get around the table" to bring an end to the deadlock.
He described the Windsor Framework as a "huge step forward" by the UK Government which helped to remove obstacles to restoring the executive.
"So we agree with President Biden, we think the parties should get around the table, restore the powersharing arrangements."
Mr Philp added that Mr Biden's remarks that the return of powersharing could unlock new investment were "interesting" and made the case for ending the current paralysis "really strong".