The baby of a senator became an unexpected guest of honour in the Irish Parliament after getting a special acknowledgement from the US president.
Ahead of an historic address to TDs and senators as part of Joe Biden's trip to the island of Ireland, the Dail speaker drew attention to the young infant who was being held by her mother in the chamber.
As Ceann Comhairle Sean O Fearghail was reading out the list of distinguished guests in the room for the presidential address when he mentioned one particularly young member of the audience.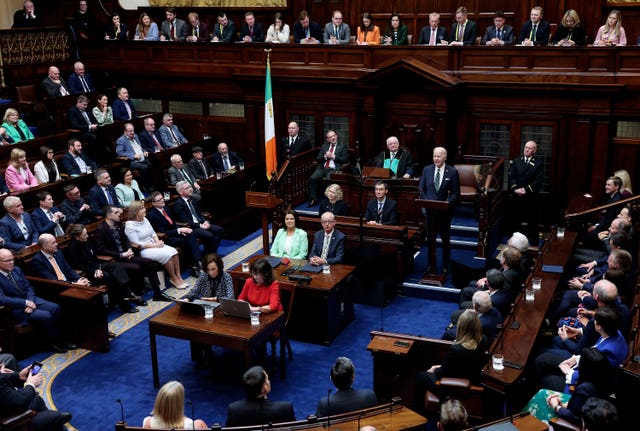 The introduction was met with applause by parliamentarians as Ms Moynihan held up her eight-week-old daughter Margot, dressed in a yellow outfit.
MEPs Ciaran Cuffe and Frances Fitzgerald, sitting beside Ms Moynihan, laughed and applauded as Mr O Fearghail namechecked the young guest.
"I do suspect that Margot's attendance here will go down in family folklore for many years to come," he said.
After beginning his address, Mr Biden apologised to Margot for having to listen to a policy speech by the US president, which he said his own children also had to endure.
"Margot, I apologise to you, little baby girl," he said.
After leaving the Dail chamber, Mr Biden descended the stairs outside the chamber and was handed baby Margot, and held her for several seconds.