The SNP has been urged to "come together" by its former Westminster leader now the party has selected Humza Yousaf as First Minister.
Ian Blackford's comments came just 24 hours after SNP president Mike Russell told The Herald newspaper that Scottish independence cannot be secured in the immediate future amid the ongoing police investigation into party finances.
Mr Blackford told the BBC's Good Morning Scotland on Monday that Mr Russell was signalling that the party is facing "a very challenging period", and warned that "political parties that aren't united tend to face electoral challenges".
The MP for Ross, Skye and Lochaber added: "I would appeal to everyone in the party to come together now the election contest for the leader and the First Minister is over.
Mr Blackford, who backed Mr Yousaf to replace Nicola Sturgeon as leader, added: "I actually think, when I look over the course of the first few days of the leadership of Humza, he's made a number of very positive announcements."
He said the party needs to "make sure that we rise to the challenges that we have" and that it is ready to face its first electoral contest of the general election next year.
He said: "I'm optimistic but we need to make sure that we show that we're worthy of the support of the people of Scotland."
He added: "If we look at support for independence, it's still hovering around about or close to the 50% level.
"We need to demonstrate that we are worthy of the trust of the people and it's about, I would say, the Scottish Government delivering across all the devolved areas and doing the work that we need to do to demonstrate that the best answer for Scotland is to become an independent country."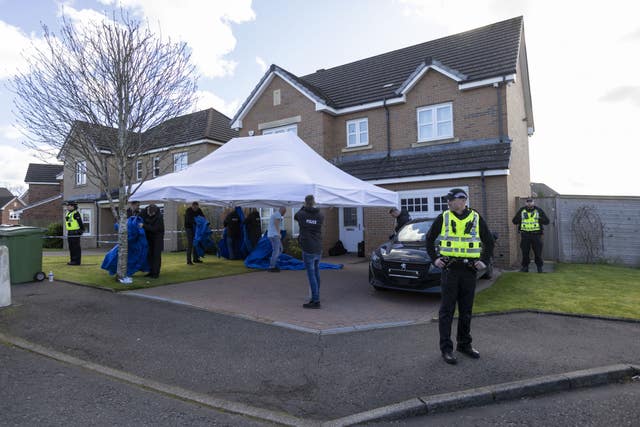 On Saturday, Ms Sturgeon, speaking outside her Uddingston home, said the last few days had been "obviously difficult" and that she would "fully co-operate" with the police investigation.
She said Mr Murrell was "not able to say anything" about his arrest while the inquiry continues.
"Again, that's not necessarily a matter of choice. That's just the nature of this," she added.
The Glasgow Southside MSP said she intends to "get on with life and my job, as you would expect me to".